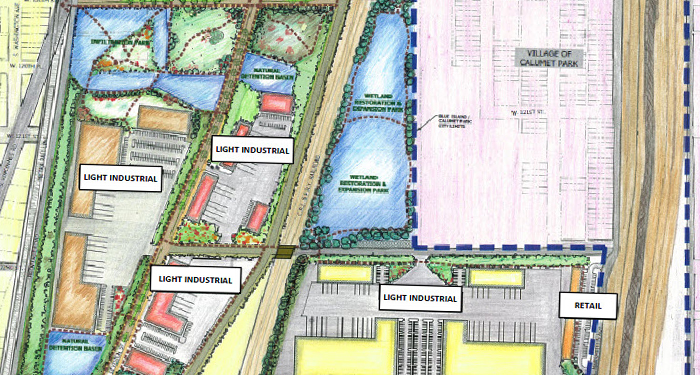 In the council chambers of Blue Island City hall, City Clerk Randy Heuser, a lifelong White Sox fan and resident, proudly showed off his Blue Island "football" scarf- despite the colors being the same as the Cubs. The scarf, styled after European football league scarves, was designed by a local resident who came up with the idea as a way to showcase the community's history and pride. As a part of the first Out and About with GCI series, we visited with Heuser and his planning staff at City Hall for a comprehensive and thorough overview of city planning initiatives and brownfield redevelopment plans. The presentation was led by Supervisor of Planning, Jodi Prout, and Building Commissioner, Jason Berry, in which they too showed their enthusiasm and dedication to all things Blue Island. The entire day's visit reinforced a strong sense of identity that echoes back to the early residents resistance to stay independent from Chicago, a history which also happened to be showcased on WBEZ's Curious City the same week as our visit.
Settled in 1835 and one of Cook County's oldest communities, Blue Island has a long legacy in the region's economy, particularly in shipping and logistics, which no doubt made it an appealing annexation for the City of Chicago. But Blue Islanders resisted annexation and now almost 180 years later, Blue Island is a longstanding suburb of Chicago that grapples with its industrial legacy and proximity to Chicago. The redevelopment planning efforts underway in Blue Island are a relatively recent development, beginning with the city's most recent comprehensive plan in 2005.  Blue Island worked with Center for Neighborhood Technology (CNT) to build this comprehensive plan. After CNT came on board, Prout was hired to implement the plan. Since her department's humble beginnings as a one-person team working with a laptop in a conference room, Prout has worked hard to bring in many public and private partners, such as Metropolitan Planning Council (MPC) and the U.S. Environmental Protection Agency (EPA), which resulted in raising millions of dollars in grant funding to launch the City's very ambitious redevelopment initiatives.
Despite the challenges associated with brownfields, Blue Island has adopted the EPA redevelopment idea that brownfield sites are actually opportunities. The largest redevelopment site to date for Blue Island is the 115 acre Northeast Mixed-Use Commercial District. This site, once a former brickyard in the 1950's and later an informal landfill, is now the planned location for light industry, commercial property, parkland, and a stormwater management system. Perhaps even more impressive, Blue Island's brownfield redevelopment planning processes are driven by a strong community-engagement approach; an approach that has resulted in many additional grassroots projects particularly related to the natural environment and recreation.  Catalyzed by a forward-thinking planning staff and supportive elected officials, these grassroots efforts helped to legitimize the City's community work by bringing in a cross section of community stakeholders on a variety of activities. Ongoing efforts include community gardening, waterway reclamation for recreational uses, and their version of TOD – "Trail-Oriented Development." As a result of the City's regional leadership and vision for the area, Blue Island was granted lead agency for the east end of the Cal-Sag Trail development, a regional bike trail that follows the Cal-Sag Channel.
After the presentation, the staff led us on a quick walk through the neighborhood just south of city hall, where some of the upcoming work will happen. We stopped in for lunch at Tenochtitlan, a local favorite offering some delicious Mexican food, which represents one of the city's growing communities. After our visit and learning more about the city's activities and the staff, their enthusiasm inspired me, and I feel this helps to explain how a small suburban community could successfully resist Chicago and build a legacy of its own.
The Blue Island trip was the first Out and About with GCI, a series that offer participants the opportunity to connect theory with on the ground practice throughout the region. The events also offer opportunities to build relationships between students, the public, and private planning professionals, as well as community and other planning and policy related organizations.  Keep a look out for future events. Check out our events calendar for information on future Out and About with GCI events and other exciting opportunities at GCI!
About the Author:
Jack Rocha, GCI Research Assistant: First year MUPP student interested in developing a sense of community under the framework of spatial planning that is guided by its history.