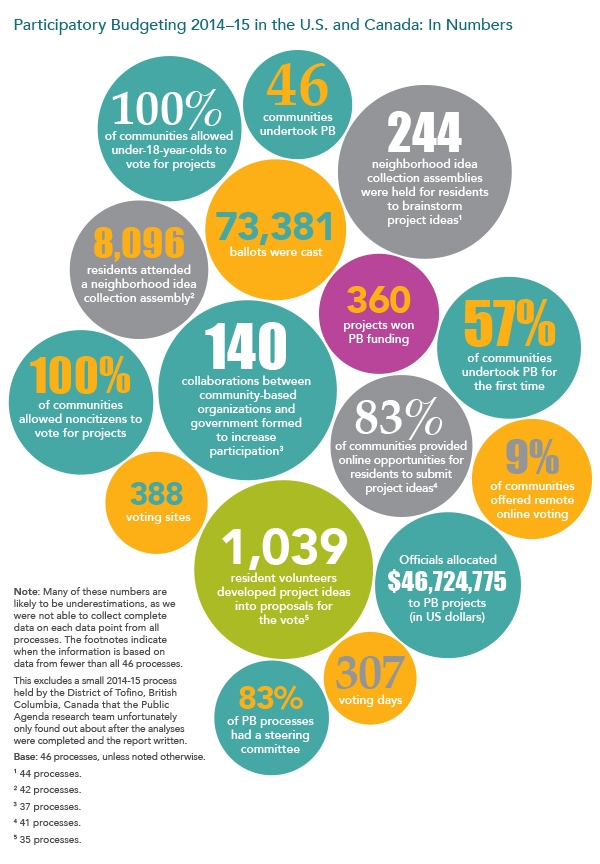 Since 2012, the Great Cities Institute has been researching on and co-leading the expansion of participatory budgeting (PB) in Chicago. We are thrilled to announce the release of the first-ever comprehensive analysis of participatory budgeting in the U.S. and Canada by our partner, Public Agenda.
PB is a process that enables residents to directly decide how to spend public money. It is one of the fastest growing forms of public engagement and has the potential to strengthen local democracy.
The report, "Public Spending, By the People: Participatory Budgeting in the United States and Canada in 2014-15," synthesizes data from 46 cities and districts that used PB in 2014-15. Among their findings:
Communities overall invested substantially in the process and saw diverse participation. Over 70,000 residents decided how their communities should spend $50 million through PB.
PB implementation and outcomes vary widely between cities and districts.
On average, cities and districts allocated $1 million to PB, but that ranged from $61k to $3.4 million.
Some communities lag far behind in their representation of lower-income and less educated residents. The report provides demographic data on participants and compares it to local US census data.
For more information:
Read about PB Chicago on GCI's website »
Download the executive summary »
Download the full report »