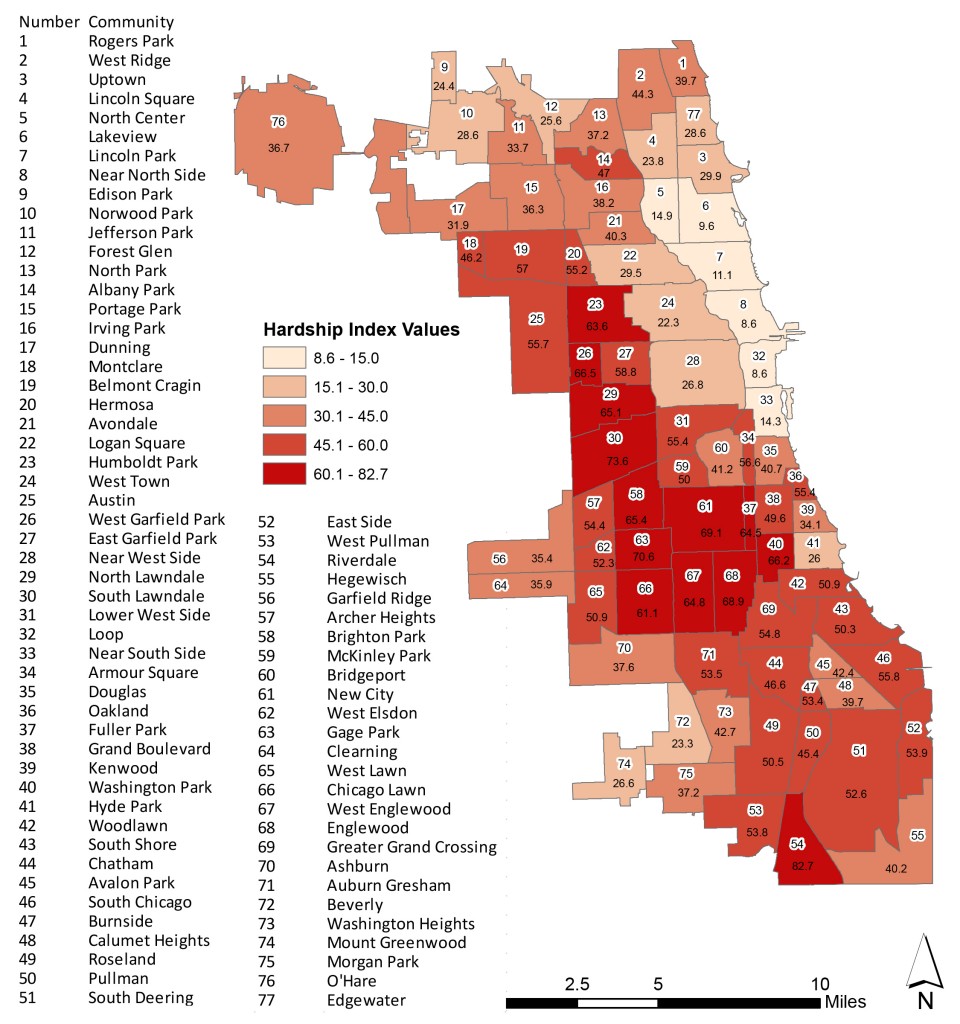 Racial segregation, concentrated poverty, and physical deterioration of neighborhoods continues to define conditions of inequality across Chicago neighborhoods. As economic restructuring has caused a hollowing of the middle-class, stagnant wages, and retrenchment of public spending, many Chicagoans are living in economic conditions far worse than in other parts of the city.
For the next fact sheet in the Great Cities Institute's Fact Sheet Series, we applied an economic hardship index to Chicago Community Areas to further understand economic disparities across the city. The strength of such an index is in the multiple variables considered which provides a more comprehensive view of economic hardship than single indicators. Combining poverty, income, employment, education, living conditions, and population dependency variables we can understand a range of factors contributing to economic conditions and prospects for upward mobility. The six variables we used to calculate composite economic hardship in the fact sheet include:
Unemployment (over the age of 16 years)
Education (over 25 years of age without a high school diploma)
Per capita income level
Poverty (below the federal poverty level)
Crowded housing (housing units with more than one person per room)
Dependency (population under 18 or over 64 years of age)
The index was developed by Richard P. Nathan and Charles F. Adams Jr in 1976 and has since been applied to cities and regions throughout the U.S. by researchers and policymakers to measure economic hardship. This index has wide application across policy areas due to the interconnectedness of economic factors to overall quality of life. For example, in 2012, this particular index was used by the City of Chicago's Department of Public Health to understand the neighborhood characteristics that impact health outcomes and behaviors.
It is our hope that this hardship index will contribute to the understanding of urban issues and provide our civic and community partners with information to improve the quality of life in Chicago.
Data highlights from the factsheet include:
The Loop (8.6 hardship index score), Near North Side (8.6) and Lakeview (9.6) had the three lowest hardship index values.
The Community areas with the next three lowest Index scores were Lincoln Park (11.1), the Near South Side (14.3), and North Center (14.9). The six Community areas with the lowest hardship index scores share boarders.
The five Community Areas with the lowest hardship index scores, The Loop, Near North Side, Near South Side, Lincoln Park, and Lakeview are all located along Lake Michigan.
The Community Areas with the highest hardship index scores are Riverdale on the far south side (82.7 hardship index score), and Gage Park (70.6) and South Lawndale (73.6) on the Southwest side.
The Near West Side (26.8 hardship index score), West Town (22.3) and Logan Square (29.5) boarder the areas with lowest hardship index scores to their east. Some of the highest index scores in Chicago were located to the west including Humboldt Park (63.6), East Garfield Park (58.8) North Lawndale (65.1), and South Lawndale (73.6).
A cluster of Community Areas on the South and Southwest Sides of Chicago had among the highest hardship index scores in the city. The cluster of Community Areas which had high hardship index score included Washington Park (66.2 hardship score), Fuller Park (64.5), New City (69.1), Brighton Park (65.4), Englewood (68.8), West Englewood (64.8), and Gage Park (70.6).
The Pullman Community Area had the median hardship index value (45.4) for all Community Areas. In addition to the index calculations, Community Area level data for each variable is included in the factsheet.
Please stay tuned for our forthcoming report on economic hardship.