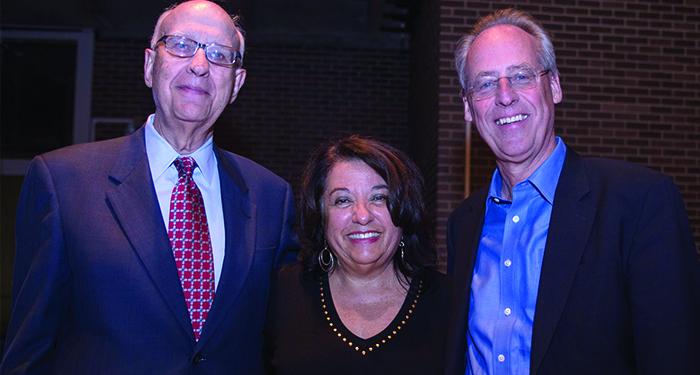 Dear Friends of GCI,
On Wednesday, November 16, 2016, nearly 200 people joined us for the anniversary celebration of the Great Cities Institute. Thank you to those of you who attended. We were especially thrilled to see so many of our community partners, UIC administrators and colleagues, elected officials, former staff, and long time friends of GCI. Thank you to Chancellor Michael Amiridis and Susan Poser, Provost and Vice Chancellor of Academic Affairs, for attending. Thank you also for the many warm congratulation notes that we received from others that were unable to be present. We appreciate all of the good wishes.
We gathered to celebrate 21 years of GCI and the Great Cities Concept by 1) honoring the visionaries who were responsible for the concept and the institute, 2) coming together to connect and in many cases, to reconnect; 3) affirming the great cities concept; and 4) sharing our four-year report.
Throughout the evening, we had a running slide show of around 500 photos spanning the history of GCI. We also have some photos from the event to share with you from our photo gallery.
Chancellor Michael Amiridis gave a warm welcome to everyone including our special guests: Dr. James J. Stukel, Dr. Wim Wiewel** and family members of Rob Mier.*** He also recognized the important role of David Perry, former director of GCI.
Chancellor Amiridis spoke about the urban mission of UIC and stated, "During the past 21 years, The Great Cities Institute has embodied our commitment of engagement in Chicago and in support of Great Cities around the world." Wishing us congratulations, he went on to emphasize the importance of our continued work at Great Cities Institute.
After insightful remarks by James Stukel and Wim Wiewel on Great Cities, we paid tribute to a consummate engaged scholar, Robert Mier, who was Professor of Urban Planning and Policy, the founder of the Center for Urban Economic Development (CUED), and Commissioner of Economic Development under Mayors Harold Washington and Eugene Sawyer.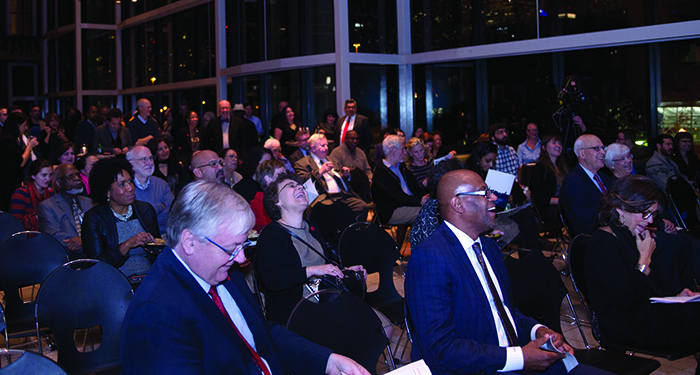 The tribute included a letter from Bob Giloth and Kari Moe, both of whom worked with Rob for over twenty years and served in the Washington Administration as Deputy Commissioners of Economic Development. We appreciate the sentiments expressed in this letter through which they spoke of Rob's enduring influence on their lives and careers, "shaping over and over our own practice and leadership in the public and nonprofit sectors." Rob was committed to "developing young and new talent," stating, "He was more than a great teacher; he promoted his students and colleagues and opened opportunities that made a significant difference for them." Rob promoted "a principled sense of social and racial justice," and taught us "how to be effective managers in the public sector in big and small ways." Finally, as a "unique progressive,"
Rob was an entrepreneurial and principled progressive. He was not doctrinaire; nor did he subscribe to anyone's progressive blueprint or playbook without critical engagement.  He focused our attention as planners on what we could do in our current context to advance practice and policy in a more equitable direction.  At the same time, he had powerful analytic skills that helped all of us understand the barriers facing progressive change in labor markets and urban economies.
Maria de los Angeles "Nena" Torres, Director of the Mayor's Advisory Commission on Latino Affairs (under Mayor Washington) shared her analysis of what it was like to work with Rob in City Hall. The tribute to Rob also included a slide show with old newspaper clippings highlighting his emphasis on jobs and neighborhoods.
We then announced the James J. Stukel Presidential Fellowship, endowed by Stukel to honor a faculty member "whose work is consistent with the Great Cities Commitment." We presented the award to Professor John Hagedorn, professor of Criminology, Law and Justice at UIC, who has published extensively on his research on gangs, much of which he wrote while a GCI Faculty Scholar. His most recent book is The In$ane Chicago Way: The Daring Plan by Chicago gangs to Create a Spanish Mafia (2015). John was not in attendance due to a bicycle accident but we showed a short video of him accepting the award.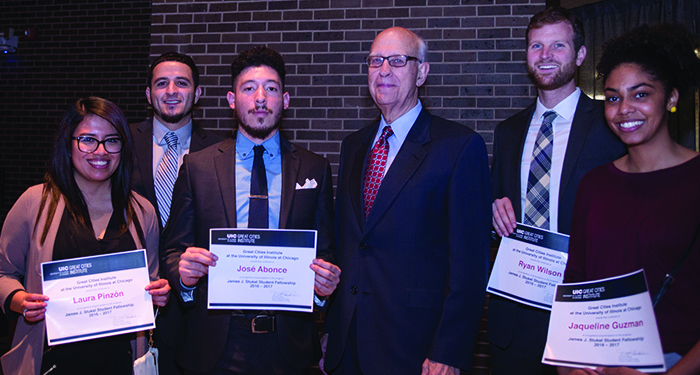 Finally, we ended by recognizing a new generation of young scholars named as James J. Stukel Fellows. These young people are pursuing their Master's degree in Urban Planning and Policy and in accepting this award, join a prestigious cohort of James J. Stukel Fellows for the 2016-2017 academic year. The Fellows will be provided the opportunity to interface with the GCI team, receive academic and project support, attend training workshops and seminars, participate in client-based research and planning projects, and network with other James J. Stukel Fellows. The James J Stukel Fellowship includes a small Assistance Grant towards the purchase of books. The ten students include: José Abonce, José Acosta-Córdova, Anthony Farruggia, Jacqueline Guzman, Nivedha Jawahar, Colleen Ma, Alex Mistak, and Laura Pinzón, Shubhayan Ukil, and Ryan Wilson.
As Director of Great Cities Institute, I know that I have a responsibility – it is a responsibility to a vision, a set of principles and a commitment to a "scholarship of engagement." The GCI team and myself have accepted that responsibility with diligence and dedication and look forward to our continued productivity. We appreciate the support and interest that we receive from you.
Sincerely,
Teresa Córdova
Director
* James J. Stukel was former Vice-Chancellor for Academic Affairs at UIC (1986-1990), acting Chancellor at UIC (1990-91), Chancellor (1991-1995) and U of Illinois President (1995-2005)
** Wim Wiewel as the first director of Great Cities Institute and the first Dean of the College of Urban Planning and Public Affairs. He is the current President of Portland State University
*** to whom we paid tribute: his sister, Nell Newton, Dean of the Law School at Notre Dame and his wife, Joan Fitzgerald, professor at Northeastern University in Boston.