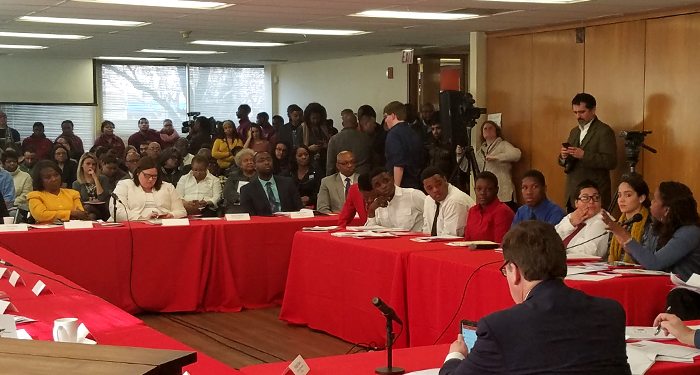 On January 30, 2017, we had the great honor to present our report on youth joblessness at a hearing organized by Alternative Schools Network (ASN) and held at the Chicago Urban League.  Co-sponsors of the forum included Chicago Area Project, Youth Connection Charter School, Westside Health Authority and Black United Fund of IL, National Youth Advocate Program, La Casa Norte, Lawrence Hall, Mount Sinai Medical Center, Heartland Alliance, and Metropolitan Family Services. Among the elected officials that were present, and in some cases spoke, at the hearing were U.S. Senator Dick Durbin, Congresswoman Jan Schakowsky, Cook County Board President Toni Preckwinkle, and several members of the Illinois State Assembly, Cook County Commission and Chicago City Council. Also in attendance was Andrea Zopp, Deputy Mayor, Chief Neighborhood Development Officer and Chicago City Clerk, Anna Valencia.
Most critical to the hearing, was the large presence of young people, several of whom participated in a panel discussion moderated by Susan Richardson of the Chicago Reporter. Shari Runner, CEO of Chicago Urban League welcomed everyone and Jack Wuest, ASN, facilitated the movement through the various segments of the hearing, which was titled, More Jobs, Less Violence: Connecting Youth to a Brighter Future.
The Great Cities Institute 2017 report, Abandoned in their Neighborhoods:  Youth Joblessness amidst the Flight of Industry and Opportunity, supplements the voices of young people who have come forward at previous ASN hearings to speak about their appreciation for opportunities to work and the value they place in having a job.  They have also repeatedly made the connection between conditions of joblessness and violence and that an answer to stop violence is to "get us off the streets and into some work clothes, and you will see the change."
In our 2016 reports, Lost: The Crisis of Jobless and Out of School Teens and Young Adults in Chicago, Illinois and the U.S. and A Lost Generation: The Disappearance of Teens and Young Adults from the Job Market in Cook County, we brought attention to the issue of joblessness among 16 to 24 year olds by examining employment to population ratios, joblessness and out of work/out of school rates comparing whites (non-Hispanic), Hispanics or Latinos and Blacks (non-Hispanic) within Chicago and between Chicago, Illinois, the U.S., Los Angeles and New York. The figure that nearly half of black 20 to 24 year old men in Chicago were neither working, nor in school, sent shock waves about the severity of the joblessness problem that our GIS generated maps showed were most severe in neighborhoods with the highest concentrations of blacks, and then Latinos.  In our conclusions, we asserted that the joblessness problem could not be understood without understanding the conditions of the neighborhoods themselves.
In our 2017 report, we wanted to investigate further our conclusion that joblessness was chronic and concentrated and we wanted to know more about the conditions of the neighborhoods. Based on our data, we conclude:
Joblessness among young people continues to be disproportionately felt by young people of color, especially black males;
Joblessness among young people is chronic and concentrated;
The recession made conditions worse and that for some, recovery is either slow or nonexistent;
Joblessness among young people is tied to long term trends in the overall loss of manufacturing jobs; and most notably,
Joblessness among young people is tied to the emptying out of jobs from neighborhoods, which is in contrast to jobs that are being centralized in Chicago's downtown areas where whites are employed in professional level services and blacks and Latinos in service retail.
We learned from the report that "many neighborhoods in Chicago are economically abandoned sectors with a dramatic loss of industry and opportunity for employment. These neighborhoods have been abandoned, along with the people that live there."
Joblessness persists, is part of a long-term trend made worse by the recession, and is directly tied to the flight of industry from neighborhoods. Manufacturing was particularly important in Chicago and when it declined, Chicago workers were hard hit. As an example, in 1960, sixty percent of the 20 to 24 year-old Latino labor force was in manufacturing. By 2015, that number had dropped to ten percent. Joblessness, we conclude, is systemic and is directly related to structural changes in the economy.
Understanding that residential segregation and economic and occupational restructuring is the structural context for what is happening to our young people of color, is a pointed reminder that chronic and concentrated youth joblessness must be understood in terms of its structural roots and not as a function of individual attributes.  Blaming young people for their plight does nothing to remedy their conditions. Providing structured opportunities for employment and capacity building does.
We conclude the report with four categories of strategies to tackle chronic and concentrated joblessness.
Create direct employment opportunities

Reinstate federal, state, and local summer jobs programs
Replicate New Deal strategies
Fund paid mentorship programs
Create apprenticeship programs
Recreate employment subsidy programs
Prepare young people from affected neighborhoods for the livable wage jobs that do exist and equip them to participate in the emerging economy

Increase public education expenditures
Provide on-the job training
Expand training and workforce development
Remove the impediments to employment, including those related to criminal records
Revive economically abandoned neighborhoods

Attract anchor employers that hire neighborhood residents
Assist and incentivize small business development
Create incentives for venture capital investments that are not totally predicated on immediate profit recovery
Enhance conditions for community led initiatives such as worker cooperatives and small business incubators that harness the skills and talents of young people, both of which can become the basis for revitalized commercial districts to supply the much-needed access to a wider range of goods and services
Increase funding for community organizations that provide mentorship and capacity building of young people
Stop the bleeding of job loss and reverse policies that reward extraction of wealth from communities

Tie tax incentives for corporations to actual job generation, which are then monitored for adherence to agreements with penalties for non-compliance
Accelerate incentives to investments in neighborhoods and evaluate their effectiveness
We came to this issue because we recognize the significant consequences of joblessness among young people.  Throughout the process of producing and presenting this report, we have had the opportunity to meet young people, many that work with them and an array of elected, civic and community leaders. Without question, the young folks themselves are talented and intelligent and their mentors are dedicated and engaged in efforts that make a difference. With the many phone calls, conversations and invitations that we have received since we released last year's and now this year's reports, we are heartened to see so many express their concern and their efforts or willingness to be part of the solution. It is indeed an honor, to provide data and analysis that contributes to these efforts.
Both the Executive Summary and the Full Report are available.  The full hearing can be viewed, thanks to CAN TV. In addition, you can also see the link to the various media that have covered the report.
Chicago Tribune: Report says youth unemployment chronic, concentrated and deeply rooted »
Chicago Tribune: Fix Chicago's violence? Start by helping kids land jobs »
Crain's: New report details huge unemployment among young blacks, Latinos in Chicago »