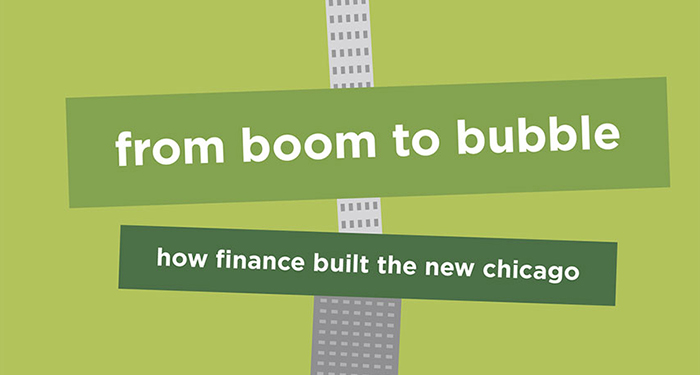 At its 47th annual meeting in Minneapolis, Minnesota, April 19-22, 2017, the Urban Affairs Association awarded Rachel Weber, Great Cities Institute Fellow and Professor of Urban Planning and Policy at UIC, the "Best Book" in the field of urban affairs/urban studies.  According to the association, "The purpose of the award is to encourage high-quality research on urban issues and reward cogent writing on urban affairs."  Dr. Weber received the award for her book, From Boom to Bubble:  How Finance Built the New Chicago (University of Chicago Press), which "investigates the causes and effects of the dizzying building booms that occur when real estate development financial markets, and city planning all operate in overdrove to rapidly erect new structure and demolish older ones."  Congratulations, Rachel!
The annual conference of UAA attracts urban studies scholars from across the U.S. and includes many international attendees as well.  Several researchers from UIC attended the conference.  GCI's Timothy Imeokparia presented his analysis on "Bringing Rigor to Urban Planning Scholarship:  The Need for Conceptual Integration," and Matt Wilson presented GCI's work on "Economic Restructuring and Youth Employment: Implications for Effective Policy Prescriptions."  Urban Planning and Policy Professors John Betancur and Janet Smith presented on neighborhood change and Public Administration Professors Michael Pagano and Jered Carr also spoke on panels.  GCI Director, Teresa Córdova, added to the list of UIC researchers in attendance.
The book exhibit was tremendous and a great way to learn about some of the most recent research on cities.  Several films were also showcased.
There were many interesting panels on an array of urban topics including transportation, infrastructure, housing, income inequality, urban design, neighborhood change, etc. An opening plenary included local officials and activists, including Minneapolis City Councilor (Alondra Cano).   A particular favorite of ours was a panel of European scholars on "Governing Urban Crises and Austerity:  Lessons from a Cross-National Study."  Cities discussed included Dublin, Barcelona, Athens, Leicester and Montreal, Canada.
And speaking of Canada, next year's conference of the Urban Affairs Association will be in Toronto, April 4-7, 2018.