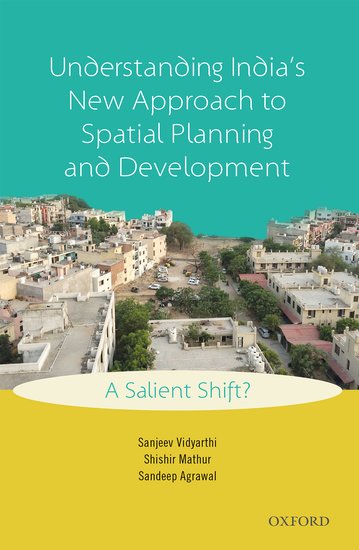 Great Cities Institute is proud to announce the publication by Oxford University Press of Understanding India's New Approach to Spatial Planning and Development: A Salient Shift?  GCI Senior Fellow, Sanjeev Vidyarthi is co-author along with Shishir Mathur and Sandeep Agrawal.
In the face of the many changes in India's rapidly developing urban – and rural areas, it is a remarkable time for such a book on India's spatial planning to be published. The range of diverse settlement patterns and recent regime shifts in its polity set the stage for this examination of the complex web of infrastructure finance and development and local planning practices. In this book, the authors study regional cities and rural settlements, taking us further into India and past the largest cities of Kolkata, Mumbai, and Delhi.
Underlying the empirical depictions of planning outcomes is the ongoing, but significant debate within India – tensions that reverberate across the world – between inclusive, democratic development principles vs market fundamentalism. Though at times, nuanced, the clash of values are shaping India's "existing and emerging settlements."  From their interdisciplinary and comprehensive research, Professor Vidyarthi and his co-authors, "skillfully draw out useful insights for scholars and practitioners alike."
This important book:
Breaks fresh ground by locating the ongoing shift in India's approach to spatial planning in the overall trajectory of country's post-independence urban development model anchored upon the Nehruvian ideal of centralized planning.
Illustrates how the tensions between democratic and market oriented impulses are shaping India's existing and emergent settlements in complex ways that are messy, uneven, and largely invisible while explaining how the country in trying to channelize its urbanization toward a more egalitarian and environmentally sustainable trajectory. In doing so, the volume offers lessons not only for scholars of India but the developing world more broadly.
Understanding India's New Approach to Spatial Planning and Development: A Salient Shift? Is released at a time when many of us are paying close attention to the shifting struggles in the shaping of human settlements.
If you would like to hear more about this exciting new book, please join us for our first Cities across the Globe activity of the 2017-2018 academic year.  Sanjeev will speak about his book at noon on Wednesday, September 6, 2017 at Great Cities Institute. 
About the authors (From the Cover)
Sanjeev Vidyarthi is Associate Professor, Urban Planning and Policy and a senior fellow of the Great Cities Institute at the University of Illinois, Chicago, USA.
Shishir Mathur is Associate Dean of Research in the College of Social Sciences and a professor in the Urban and Regional Planning Department at San Jose State University, California, USA.
Sandeep K. Agrawal is a Professor and inaugural Director of the Urban and Regional Planning Program at the University of Alberta, Canada.