In August, Mayor Lori Lightfoot announced Teresa Córdova, Director of Great Cities Institute and Professor of Urban Planning and Policy, as her choice for Chair of the Chicago Plan Commission.  The appointment required City Council approval, so on September 10, Teresa appeared before the City Council Committee on Zoning, Landmarks and Building Standards.  In her opening statement to the committee she said,   "For my entire career, I have been interested in equitable and sustainable community development," adding that she is "interested in a holistic approach to development of all parts of the city, including neighborhoods." She went on to say,
What I hope to bring to the table is a transparency in development decisions by bringing to bear on our decisions, the voices of multiple stakeholders whose lives are affected by those decisions.
The Committee unanimously approved her appointment, as did the full city council a week later.
The Chicago Plan Commission reviews applications for Planned Development (PD), projects that fall under Lake Michigan and Chicago Lakefront Protection, proposed zoning map amendments within industrial corridors, and interagency referrals. A Development Manual, which guides the review process and Plan Commission decisions can be found on the city website. The Development Manual was last updated in 2012.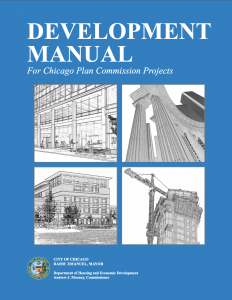 On the September 18th Chicago Plan Commission meeting, Teresa began her term and in the spirit of her commitment before the City Council Committee for transparency in decisions and increased consideration of stakeholder voices, she made, made the following statement:
I'm going to use this opportunity as part of my chairman's update to direct Plan Commission staff to:

Review existing Plan Commission rules and procedures in order to strengthen our guidelines for new, large development projects across the city
Provide recommendations this fall for the Plan Commission to consider for large, transformational projects that seek our approval.

This effort will:

Support Mayor Lightfoot's goals involving enhanced community engagement, transparency, and opportunities for substantive public input.
Enhance the commission's role as part of the development process.

The recommendations should include specific thresholds that will trigger the enhanced standards – including project size and scope – as well as other recommendations that are relevant to their potential impact on local neighborhoods.

I expect this process will include opportunities for public feedback, and I look forward to any questions my fellow commissioners may have as these policies are developed, refined and implemented in coming months.
We look forward to what promises to be an interesting reexamination of the review process for development in Chicago.
We would also like to congratulate Teresa for her recognition by the State Comptroller, Susana Mendoza, as an Honoree of Hispanic Heritage Month.