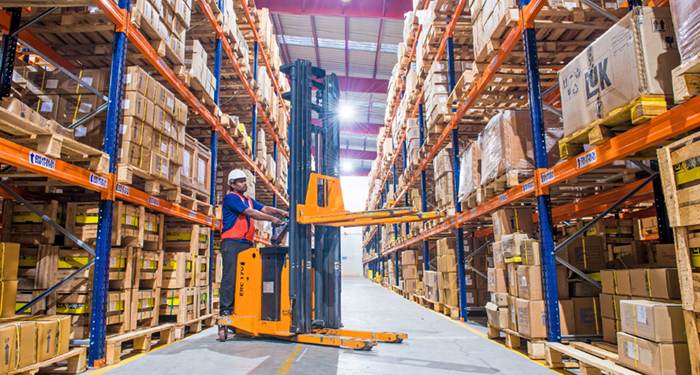 For warehouse workers during the pandemic, being deemed "essential" meant their work was suddenly visible to the public and recognized for its importance. But pulling back the veil on warehouse shop floors has also highlighted what workers and advocates have been saying for years: warehouse work is hard on workers' bodies, health and safety risks are widespread, and new technologies are exacerbating substandard working conditions. As one of the few bright spots in the economy, warehouse employment has grown during the pandemic, but so too have the hazards faced by the disproportionately Latino and Black workforce. 
Beth Gutelius is a Senior Researcher here at Great Cities Institute and research director for the UIC Center for Urban Economic Development. She has been at the forefront of documenting the impacts of COVID-19 and the ensuing increase in online ordering that has put a strain on the lives of warehouse workers. She has been quoted in many recent news articles on the subject of warehouse work, along with her research partner, Nik Theodore:
WBEZ – Warehouse And Factory Workers Make Their Case For Priority Access To The COVID-19 Vaccine
NBC News – Warehouse workers pushed to their limit as holiday orders — and coronavirus cases — surge
Washington Post – Overworked and exhausted, warehouse workers brace for a frenzied holiday rush
WAMU-FM – How Hourly and Gig Workers Are Grappling With Coronavirus
Santa Fe Reporter – The future of work is an open question
KIRO Radio – Automation is Making Warehouse Work Harder, Not Smarter
Vox Media – Robots aren't taking warehouse employees' jobs, they're making their work harder
Join Beth as she discusses with frontline organizers and workers from Warehouse Workers for Justice (Chicago) and the Warehouse Worker Resource Center (Inland Empire) about the continuing hazards warehouse workers are facing. This conversation will highlight recent campaigns to address warehouse working conditions in Chicago and the Inland Empire, two major logistics hubs in the country.
Register for the online Zoom conversation here. The talk will take place on Wednesday, February 10 at 4pm central time.
Co-sponsored by the UIC Center for Urban Economic Development and GCI's Latino Research Initiative.