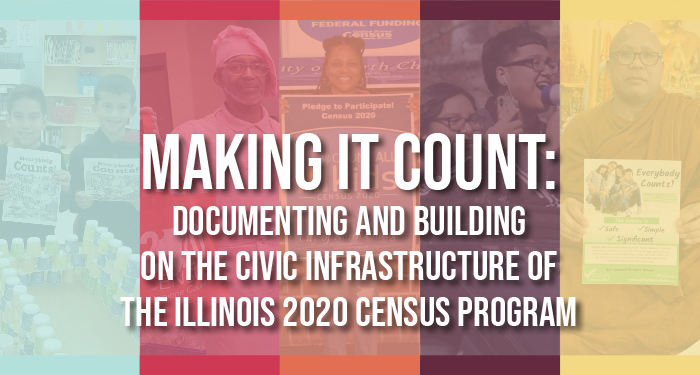 We are pleased to announce the release of a report on the IDHS Illinois 2020 Census Grant Program by Kathleen Yang-Clayton, Clinical Assistant Professor at the Department of Public Administration and Co-PI on the project; Austin Zamudio, Census 2020 Senior Project Manager; Allyson Nolde and Michael Collins, Census 2020 Outreach Trainer and Coordinators; Alex Linares, Economic Planner at the Great Cities Institute; Jackson Morsey, Urban Planner at the Great Cities Institute; Rob Paral, Principal at Rob Paral & Associates and Senior Research Specialist at the Great Cities Institute; and Drs. Teresa Córdova and Timothy O. Imeokparia from the Great Cities Institute. The report is titled, Making It Count: Documenting and Building on the Civic Infrastructure of the Illinois 2020 Census Program.
The IDHS Illinois 2020 Census Grant Program was unique for a variety of reasons, most notably its use of the networked governance model, colloquially referred to as the hub-and-spoke model, mobilizing over 400 organizations across the State to engage in census outreach. Through the 2020 Census Project alone, IDHS was able to build an extremely complex and immersive civic infrastructure that touches on all aspects of Illinoisans lives – from local government, to community organizations, to health departments.
The report documents the entire scope of the Illinois 2020 Census Project, including the timeline, project challenges, actors, response rates, successful strategies, and more. Going a step further, the report also identifies recommendations for the future, including a proposed timeline. It was imperative to Dr. Yang-Clayton that these efforts be formatted in a way to serve as a baseline for future civic engagement initiatives as well as the 2030 census.
Amidst recovery from the COVID-19 pandemic and a mass exodus of residents leaving the state, it is clear that tapping into this already established infrastructure and continuing to engage local organizations across Illinois will be critical in regaining the lost political representation and federal funding Illinoisans so desperately need. Though using the Illinois 2020 Census network and investing in small projects over the course of the next 10 years, Illinois can reclaim what was lost and achieve even higher than our previous standard. 
A link to the report can be found here. The supplementary digital archive of all Illinois 2020 Census reports, documents, and videos can be found at www.definingourdecade.org. For further information on the intricacies and results of the project, Dr. Yang-Clayton can be contacted at kyclaytn@uic.edu.