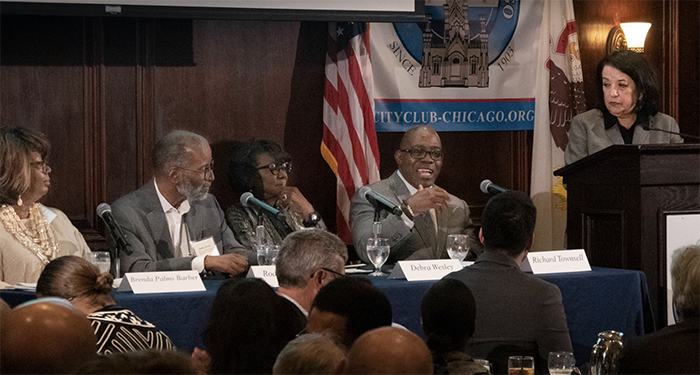 Most important to the Great Cities Institute is our ability to serve Chicago and its communities by harnessing the power of research through strategic engagement.  A recent example of such engagement is the production of Lawndale Service Area Databook that we produced for/with the Lawndale Christian Development Corporation and presented at the Chicago City Club on Monday, April 25th.  The City Club event included a presentation of the data by our Director, Teresa Córdova and panel of North Lawndale Community Leaders: Dr. Teresa Córdova Rodney Brown, Brenda Palms Barber, Richard Townsell, Debra Wesley. The event and the report have received media coverage in the Chicago Sun Times, the Chicago Tribune, Block Club, NBC Chicago, WBEZ, and WVON, including columns from the editorial boards of both the Tribune and the Sun Times. The editorial from the Sun Times Editorial Board, which featured the Great Cities Institute report, appeared in Wednesday, April 27th' paper and stated: 
The findings are valuable —and should be studied — by city planners, business owners or anyone interested in revitalizing North Lawndale and similar neighborhoods that are wrongly seen as too poor to support proper economic development.
The Databook identifies trends of wealth leakage and employment/education mismatch and argues for investment that benefits the residents. 
Some major trends identified in the Lawndale Service Area Databook are that: 
$124 million in resident spending is leaving North Lawndale every year. This leakage is mainly due to: 

Insufficient living wage jobs within North Lawndale for North Lawndale residents

Underdeveloped commercial corridors or centers, and




Minimal availability of goods and services within North Lawndale 
When economic development opportunities arose in North Lawndale, they tended not to benefit existing residents. Jobs within the community grew by approximately 3,000 between 2010 and 2018; however, most of those jobs went to workers who live outside of the community. 

In 2018, while more than three quarters of North Lawndale employed residents identify as Black, more than half of the jobs in the area were held by workers who identify as white (non-Hispanic), yet 2020 Census Data shows that the white (non-Hispanic) population of North Lawndale comprised just 2.3 percent of the total population. 

Jobs located within the community tend to pay higher than those held by employed residents who leave the community for work. 

Over half of jobs (51.9 percent) in North Lawndale paid more than $3,333 per month in 2018, however most employed residents (76.8 percent) were paid $3,333 or less per month. In 1980, median household income was already much lower in North Lawndale when compared to more affluent neighborhoods. Yet from 1980 to the period of 2015-2019, the inflation-adjusted median household income in North Lawndale decreased by an estimated $4,000. 
There is a mismatch between jobs in the community that require a bachelor's or advanced degree and the percentage of residents that have a bachelor's degree or higher. 
In 2018, 21.2 percent of jobs in the community required a bachelor's or advanced degree but 12.7 percent of employed residents had a bachelor's degree or higher. 
In 2018, the largest employing economic sector in North Lawndale was the Health Care and Social Assistance industry, which consisted of 43.4 percent of the jobs

in North Lawndale. However, only 20.1 percent of North Lawndale employed residents worked in the Health Care and Social Assistance industry. The second largest employing sector in North Lawndale was in the Educational Services industry, in which only 2.4 percent of North Lawndale's employed residents worked.