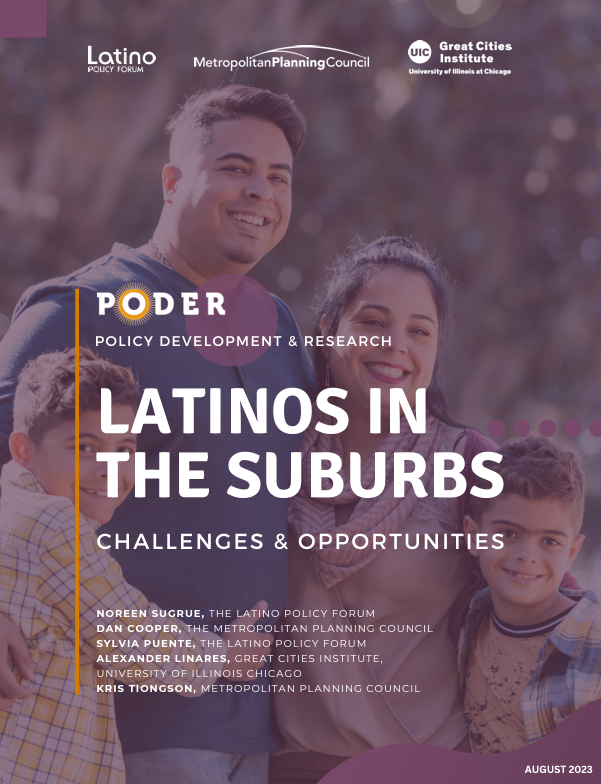 Executive Summary:
This report, which was developed in collaboration with the Latino Policy Forum, the Metropolitan Planning Council, and the Great Cities Institute, provides a multi-faceted analysis of Latinos living in the Chicago suburbs. More than 50% of the Illinois Latino population lives in the municipalities and counties surrounding Chicago. The report examines their general opportunities and hardships, how they fare, and the gaps in opportunities and hardships compared to their non-Latino counterparts.
In this report, there is data on income, demographic dispersion, and educational levels, among other themes, as well as stories of life in the suburbs, and for example, how small acts make Latinos and their families feel welcome, part of the community, and committed to contributing to the social and economic life of the suburbs in which they live.
The three organizations that contributed to this report understand the importance of knowing the Latino suburban story and that those who can enhance opportunities and lessen challenges must lead. And one way to lead, as suggested by the report, is through a concerted effort at the regional, county, and municipal levels to prioritize and grapple with the central challenges highlighted here and then develop and implement policies designed to address the challenges and inequities Latinos face in the suburbs. After all, the socioeconomic success of the Latino population is a necessary condition for the socioeconomic success of the State of Illinois, the City of Chicago, the suburbs, and each of us.
Videos from Event:
Thank you to the Latino Policy Forum for hosting the video.
Authors:
Noreen Sugrue, The Latino Policy Forum
Dan Cooper, The Metropolitan Planning Council
Sylvia Puente, The Latino Policy Forum
Alexander Linares, Great Cities Institute, University of Illinois Chicago
Kris Tiongson, The Metropolitan Planning Council
---
---