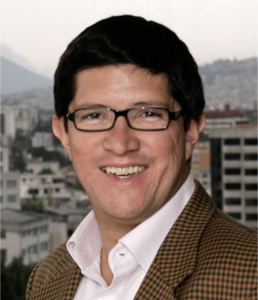 In April 2020 Diego Aulestia Valencia was appointed as Head of the Human Settlements Unit of ECLAC/CEPAL, the UN Economic Commission for Latin America and the Caribbean.  Since August 2017, he had been the Ambassador and Permanent Representative of Ecuador to the WTO and other economic organizations based in Geneva since August 2017.
A development economist, Mr. Aulestia holds a Master's Degree in Economics (1991) from the University of Oregon (USA), and in Latin American Studies, from the London School of Economics. He has also pursued graduate studies in history and urban studies.
Before being appointed as Permanent Representative of Ecuador to the WTO, the Ambassador was Director of the School of Government at the Univesidad de los Hemisferios (Ecuador). As an academic he has taught in Ecuador and Venezuela, and presented lectures in the United States, England, Mexico and France. In 2017 he was named Senior Associate at the Great Cities Institute in the University of Illinois at Chicago. He has published several articles on urban issues, international economics and history.
Former Minister of International Trade (2015-2016); Urban Development and Housing (2013- 2015) and Executive President of Ecuador's Development Bank, Ambassador Aulestia also carries an extensive experience in public and development economics. As overseas duties he was appointed Ambassador of Ecuador in Portugal (2012-2013) and Representative for trade affairs to Europe (2013).
Between 2001 and 2005 he was senior executive of CAF, the Development Bank of Latin America (Caracas, Venezuela), being involved in sovereign lending in social developments. Previously he worked in Ecuador in Commercial Banking and Corporate Finances.