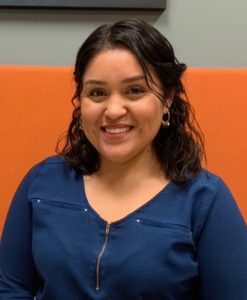 Email: nherna36@uic.edu
Phone: 312.996.4617
Norma Hernandez, MUPP, is a Community Development Planner at the University of Illinois at Chicago Great Cities Institute, where she engages in participatory planning and building connections between local communities. Her main project is Participatory Budgeting Chicago, an initiative that works with Alderman, their staff, community leaders, residents, and schools around community planning, direct democracy, and civic engagement. She works on the evaluation as well as providing direct on-the-ground service and training to participants. She has recently been selected to join the PB mentorship program, where she will help guide new PB implementers and advocates seeking practical guidance on how to start or improve participatory democracy processes in cities across North America. She holds a BA in Social Work from Aurora University and a Master's in Urban Planning & Policy from University of Illinois at Chicago.
As a graduate student, Norma interned at the City of Chicago's Department of Planning and Development – Workforce Unit where she assisted in a program called TIFWorks that helps fund workforce training costs for businesses located in Tax Increment Financing districts. She was president of the UIC Latino Planning Organization for Development, Education, and Regeneration (LPODER) where she organized a series of panel discussions focused on planning related issues affecting Latino communities in Chicago. Her master's project examined the participation of Mexican women working in low-wage sector jobs through an ethnographic study to help understand their role in the Chicago Metro Area economy and the continuation of that role after the conditions of ongoing economic restructuring.
Her interests are community-based economic development, public policy, Latino urbanism, environmental planning, the intersections of race and class as it relates to the development of cities, and the psychological and social functions of urban planning.