A Critique of Resilience in Socio-Technical Infrastructure Systems
November 18, 2014 @ 12:00 pm

-

1:30 pm

CST

Free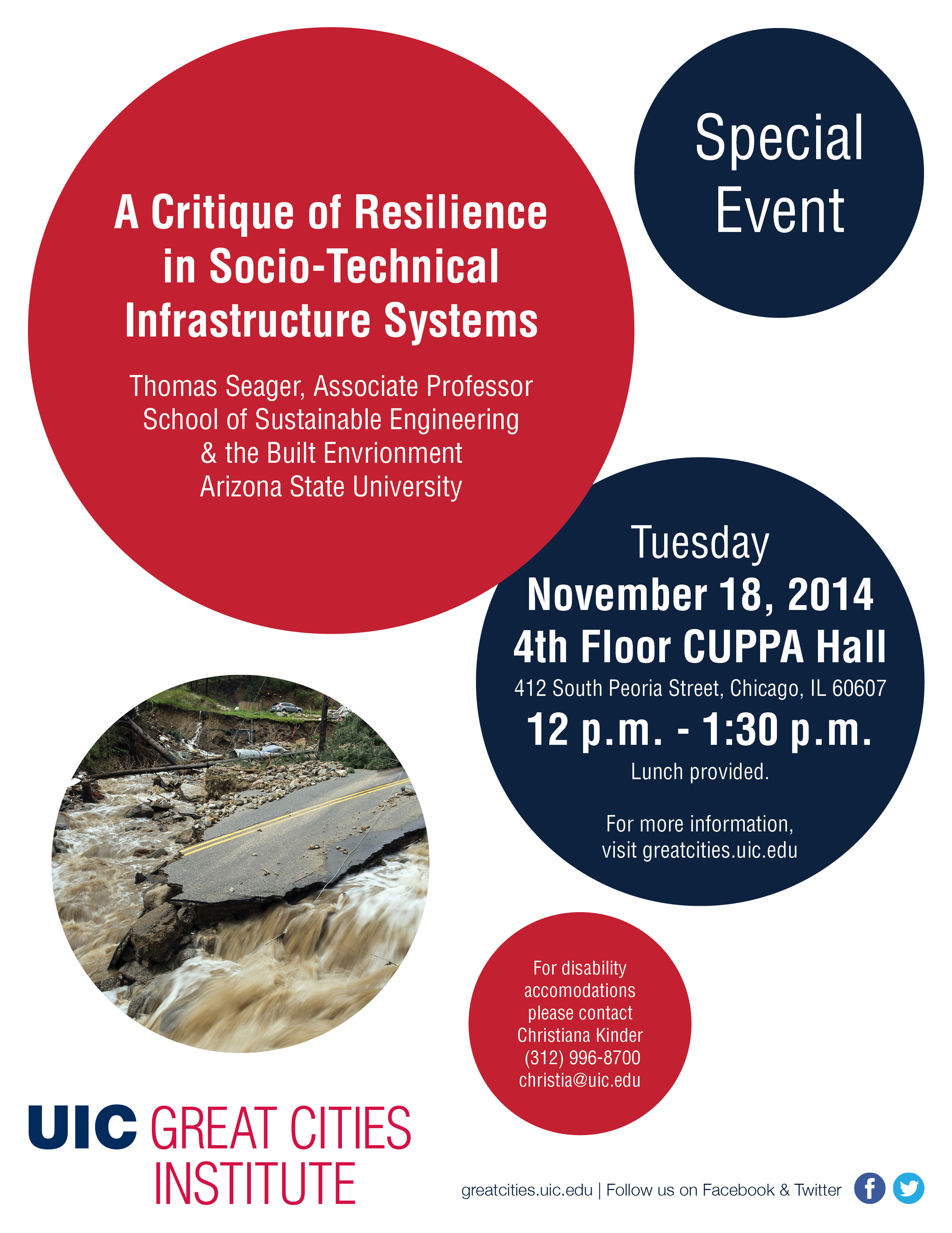 Thomas Seager
Associate Professor
School of Sustainable Engineering & the Built Envrionment
Arizona State University
Tuesday
November 18, 2014
4th Floor CUPPA Hall
412 South Peoria Street, Chicago, IL 60607
12 p.m. – 1:30 p.m.
Lunch provided.
For disability accommodations, please contact Christiana Kinder, (312) 996-8700, christia@uic.edu
Abstract:
While improving resilience of US infrastructure systems has been identified as a high priority by the executive branch of the federal government, the science and engineering research community has yet to develop a foundational understanding of resilience that is fully supportive of policy goals. A number of obstacles present themselves:
Because infrastructure resilience is best understood as a dynamic property that emerges from the interactions between built infrastructure and the humans that own, operate, and regulate them, engineering alone is insufficient to design and manage resilient systems.
Knowledge of resilience created in one application (e.g., child psychology) is currently not generalizable to radically different domains (e.g., electricity distribution). Thus, understanding of resilience is fragmented both along disciplinary and application-specific boundaries.
Resilience is only revealed in action. It cannot be predicted exclusively from examination of underlying components. Therefore, we lack reliable approaches for gauging resilience, except in retrospect.
Even where specific measures for enhancing resilience are readily identified, barriers to action exist in both a lack of incentive structures (e.g., return on investment) and in coordination between multiple public jurisdictions and private organizations.
Measures of resilience depend on assessment of the capacity to create actions such as sensing, anticipating, adapting and learning, rather than state variables.
Adaptive, emergent, and creative responses often do not emerge from infrastructure assets themselves – they emerge from people. Therefore, measuring resilience in the absence of understanding institutional, organizational and behavioral structures is inherently limited.
In collaboration with Purdue University, the SEEDS studio at Arizona State University has adopted an approach to investigation of resilience that seeks to integrate knowledge from both technical and social understandings. In this presentation, Dr. Seager will draw upon recent examples of flooding in the United States, including the Mississippi River, Phoenix AZ and Los Angeles CA to critique current approaches to understanding resilience, differentiate resilience from the current dominant analytic paradigm of risk analysis, describe a research agenda intended to partially overcome current obstacles.
Bio:
Dr. Thomas P Seager is an Associate Professor in the School of Sustainable Engineering & the Built Environment at and Director of the Sustainable Energy and Environmental Decision Sciences (SEEDS) studio at Arizona State University in Tempe AZ. Dr. Seager leads research teams working at the boundaries of engineering and social science to understand resilient infrastructure systems, the life-cycle environmental consequences of emerging energy technologies, novel approaches to teamwork and communication in socio-technical integrative settings, and engineering ethics education. Current research sponsors include the National Science Foundation, the US Army Corp of Engineers, the Environmental Protection Agency, and several industry partners. Additionally, Dr. Seager serves as Chairman of two startup companies: eXperiential Sustainability Ethics Training (XSETGames) publishes a twitter-based game simulating the Tragedy of the Commons that is used by dozens of Universities on three different continents, while Building Integrated Solar Thermal Electricity Generation (BISTEG-USA) is developing full-scale working sculptures that create electricity from sunlight without using photovoltaics. Lastly, Dr. Seager founded the non-profit Sustainability Conoscente Network as a mechanism for sharing knowledge related to systems approaches to sustainable technologies. The Conoscente holds the International Symposium on Sustainable Systems and Technologies in May of every year (issst2015.net).