RSVP above. Space is limited.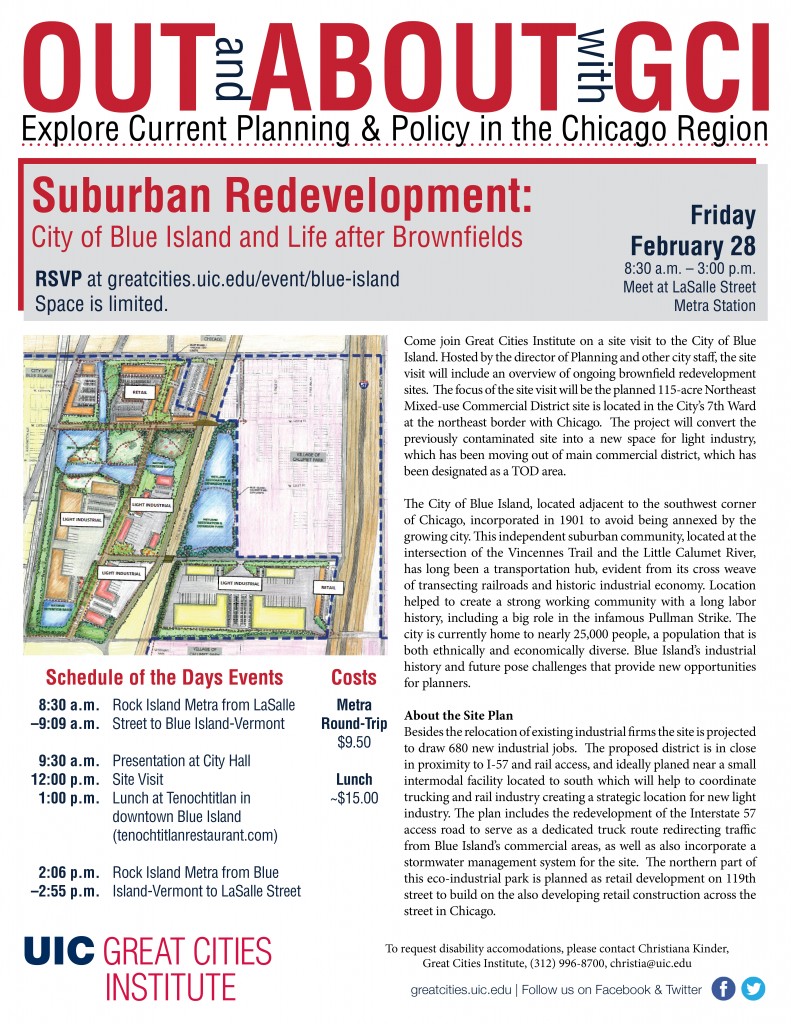 Friday February 28
8:30 a.m. – 3:00 p.m.
Meet at LaSalle Street Metra Station
Come join Great Cities Institute on a site visit to the City of Blue Island. Hosted by the director of Planning and other city staff, the site visit will include an overview of ongoing brownfield redevelopment sites.  The focus of the site visit will be the planned 115-acre Northeast Mixed-use Commercial District site is located in the City's 7th Ward at the northeast border with Chicago.  The project will convert the previously contaminated site into a new space for light industry, which has been moving out of main commercial district, which has been designated as a TOD area.
The City of Blue Island, located adjacent to the southwest corner of Chicago, incorporated in 1901 to avoid being annexed by the growing city. This independent suburban community, located at the intersection of the Vincennes Trail and the Little Calumet River, has long been a transportation hub, evident from its cross weave of transecting railroads and historic industrial economy. Location helped to create a strong working community with a long labor history, including a big role in the infamous Pullman Strike. The city is currently home to nearly 25,000 people, a population that is both ethnically and economically diverse. Blue Island's industrial history and future pose challenges that provide new opportunities for planners.
About the Site Plan Besides the relocation of existing industrial firms the site is projected to draw 680 new industrial jobs.  The proposed district is in close in proximity to I-57 and rail access, and ideally planed near a small intermodal facility located to south which will help to coordinate trucking and rail industry creating a strategic location for new light industry. The plan includes the redevelopment of the Interstate 57 access road to serve as a dedicated truck route redirecting traffic from Blue Island's commercial areas, as well as also incorporate a stormwater management system for the site.  The northern part of this eco-industrial park is planned as retail development on 119th street to build on the also developing retail construction across the street in Chicago.
To request disability accomodations, please contact Christiana Kinder, Great Cities Institute, (312) 996-8700, christia@uic.edu