Death By 'Double-Tap': (Undoing) Racial Logics in the Age of Drone Warfare
November 2, 2016 @ 12:00 pm

-

1:30 pm

CDT

Free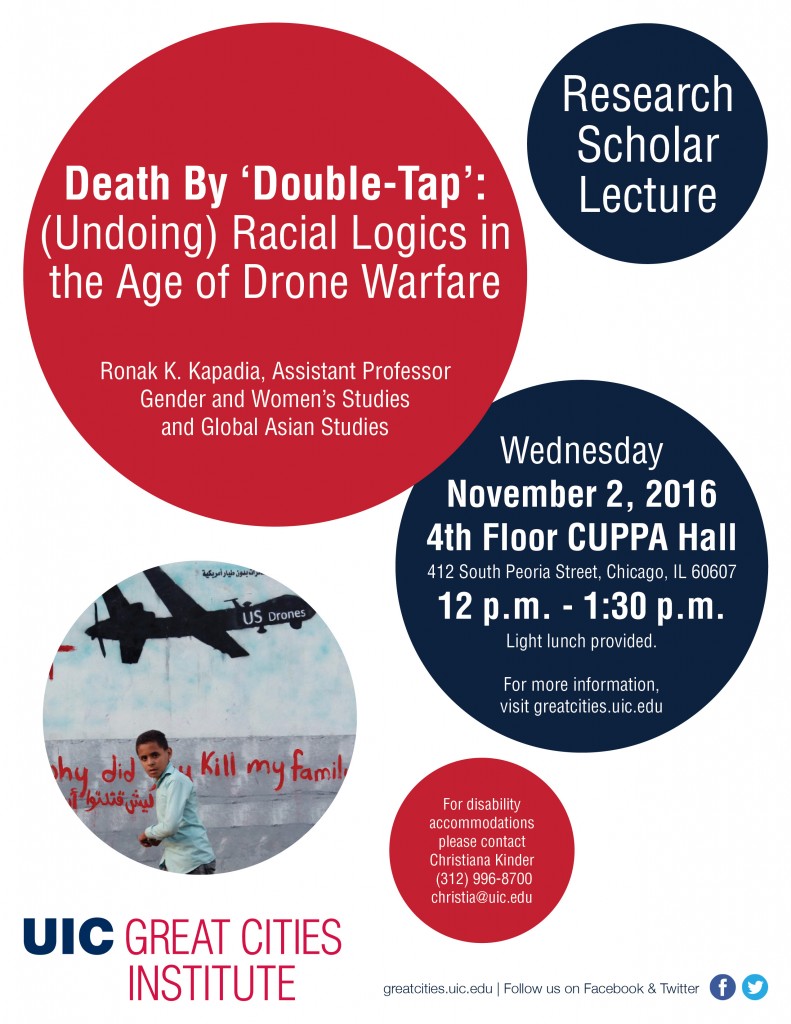 This talk examines the contemporary expansion of drone strikes and extra-judicial "targeted killings" in the context of US global counterterrorism and counterinsurgency campaigns. My principal goal is to illuminate the differential "disposition matrix" of misery produced by the state and to interrogate the questions conjured by this violence for coalitional politics in the drone age. The talk unfolds in three parts. The first section offers a primer on the geopolitical and racial logics of drone wars as the latest installment in a long history of US military presence in the Middle East and South Asia. The second section seeks to intervene into emergent drone criticism by prioritizing an account of the destabilizing effects of these militarized technologies on social relations for civilians living under the constant threat of aerial bombardment. Finally, the talk concludes that the durability of the drone forces us to contend with and challenge the ethical common sense of Washington on the conduct of war and the grammar used to make sense of US state violence. I assert that drones are not exceptional but endemic to racial domination and capitalist exploitation at the heart of US empire. Their expanded deployment both at home and abroad should be of central concern to activists and scholars of race, war, and empire.
Ronak K. Kapadia is Assistant Professor of Gender and Women's Studies and affiliated faculty in Global Asian Studies at the University of Illinois at Chicago. He received a PhD in American Studies in the Department of Social and Cultural Analysis from New York University (2012), an MA in American Studies from NYU (2008), and a BA with honors and distinction in comparative ethnic studies from Stanford University (2005). Previously, he was the 2012-2013 University of California President's Postdoctoral Fellow in the Department of Ethnic Studies at UC Riverside and the 2011-12 Riley Scholar-in-Residence in the Program in Race and Ethnic Studies at Colorado College.
A cultural theorist of race, sex, and empire in the late 20th and early 21st century United States, Kapadia is completing a book about the interface between contemporary visual media and US global counterinsurgency warfare in South Asia and the Middle East titled Insurgent Aesthetics: Race, Security, and the Sensorial Life of Empire (under contract, Duke University Press). With Katherine McKittrick and Simone Browne, he is co-editor of the forthcoming special issue of Surveillance and Society on race and surveillance, and his work also appears in Asian American Literary Review, South Asian Diaspora, Journal of Popular Music Studies, and edited volumes including: Shifting Borders: America and the Middle East/North Africa (Ed. Alex Lubin, American University of Beirut Press, 2014), Critical Ethnic Studies: A Reader (Duke University Press, 2016), and With Stones in Our Hands: Reflections on Racism, Muslims and US Empire (Ed. Sohail Daulatzai and Junaid Rana, University of Minnesota Press, forthcoming 2017).
Kapadia's research has been supported by the NYU Henry MacCracken Fellowship, the Mellon/ACLS Fellowship, the Consortium for Faculty Diversity in the Liberal Arts Colleges, the NYU Dean's Dissertation Award, the University of California President's Postdoctoral Fellowship, the UIC Institute for Research on Race and Public Policy Faculty Fellowship, and the UIC Great Cities Institute Faculty Scholarship. Outside of academe, he is a former board member of FIERCE, a member-led community organizing working to build the leadership and power of queer and trans youth of color in New York City and Sage Community Health Collective, a worker-owned health and healing justice collective in Chicago.