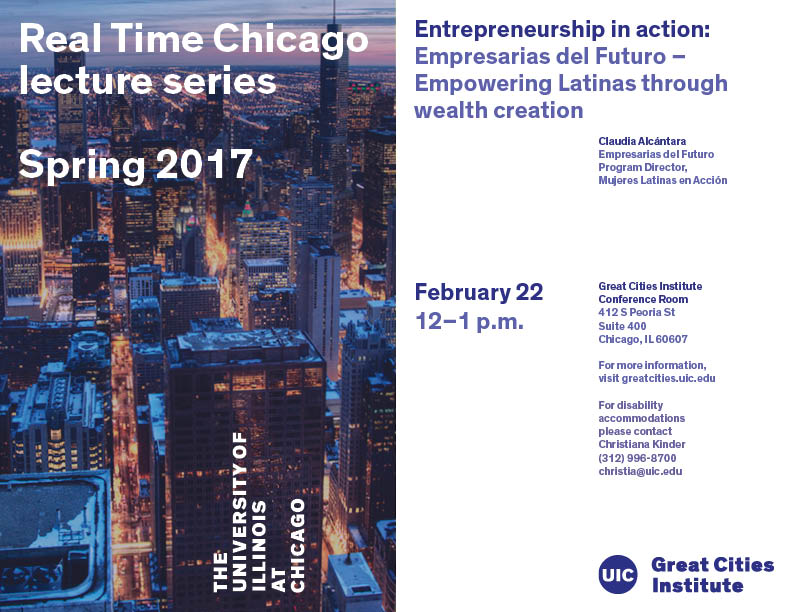 Empresarias del Futuro (EDF) is an educational training designed for women who are seeking financial independence through business development. The training provides participants with financial literacy, entrepreneurship tools and personal development that support women in business. The EDF program provides business resources and links participants with microloan options through program partners such as Acción Chicago, community organizations and financial institutions. Current participants and program graduates also receive individual financial coaching sessions during and after the training.
EDF Training is offered in two different levels. The EDF Training Level I is for start ups and Level II is for EDF graduates and business owners who seek to develop their own business plan. Throughout the year, the EDF program organizes community events where Empresarias Del Futuro participants promote their business and expand their commercial network. Training is offered in Spanish. Empresarias del Futuro curriculum was structured according to the financial needs of the communities served by Mujeres Latinas en Acción.
Claudia Alcántara has been committed to Mujeres Latinas en Acción for the last 10 years, working first as the Women in Transition Program Director. Originally, WIT Program provided support with public benefits and emergency funds but then, Mrs. Alcántara transformed the program into an educational financial training for women who want to develop a business idea. The EDF program will celebrate their 4th Anniversary this year.
–
For disability accommodations please contact Christiana Kinder, (312) 996-8700 or christia@uic.edu.