POSTPONED: Fair Fares Chicagoland: Advocating for Equitable Transit
March 31, 2020 @ 12:00 pm

-

1:30 pm

CDT

Free with RSVP
This event has been postponed. A new date will be announced at a later time.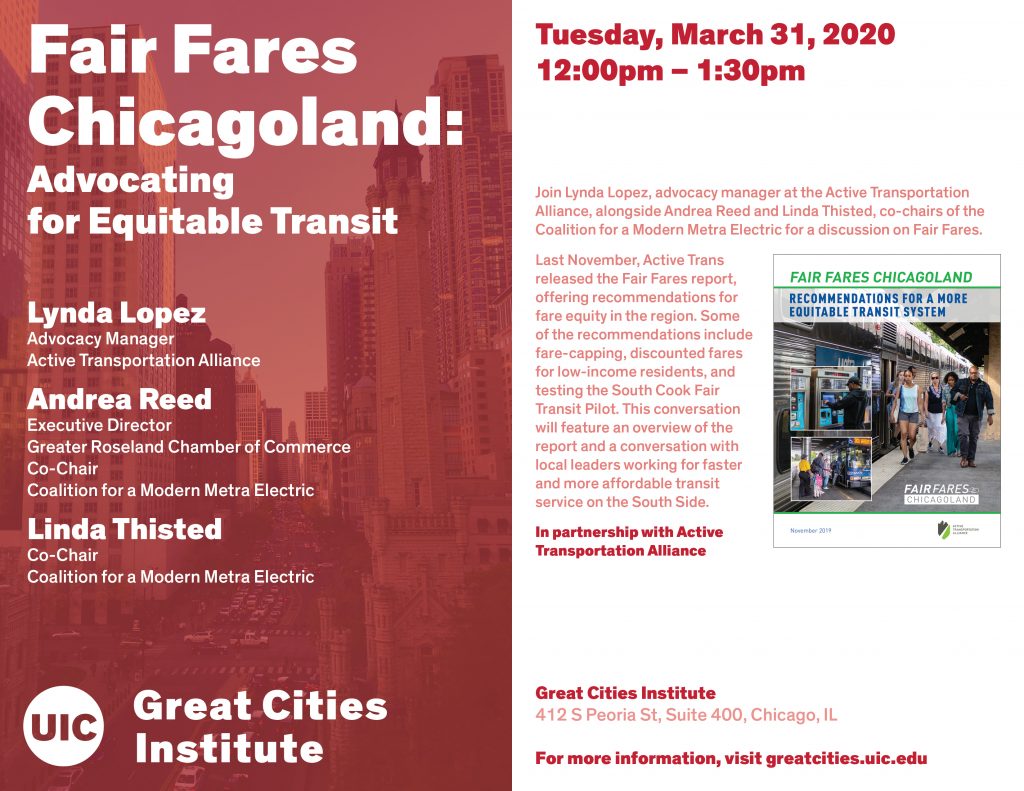 Join Lynda Lopez, advocacy manager at the Active Transportation Alliance, alongside Andrea Reed and Linda Thisted, co-chairs of the Coalition for a Modern Metra Electric for a discussion on Fair Fares.
Last November, Active Trans released the Fair Fares report, offering recommendations for fare equity in the region. Some of the recommendations include fare-capping, discounted fares for low-income residents, and testing the South Cook Fair Transit Pilot. This conversation will feature an overview of the report and a conversation with local leaders working for faster and more affordable transit service on the South Side.
Linda Thisted
Linda has an MBA from the University of Chicago and worked for the Boston Consulting Group as a strategy consultant for 12 years.  She was trained in community organizing by the Gameliel Foundation, and has been active in faith-based organizing since the late 1990s, first with the Metropolitan Alliance of Congregations and then with Southsiders Organized for Unity and Liberation (SOUL).  She has organized and run a number of successful campaigns, including an effort to provide recreational opportunities in Bronzeville, which resulted in the building of the $17M Ellis Park Arts and Recreation Center several years ago.  She has lived in Hyde Park for over 40 years.
Andrea D. Reed, Executive Director Greater Roseland Chamber of Commerce
Ms. Reed has been the Executive Director for the Greater Roseland Chamber of Commerce (GRCC) since it's' inception in April 2009. She is on the board of Illinois Green Alliance (newly elected 2020), Preservation Chicago, and Women Gathering for Justice; and Commissioner for the Special Service Area #71. Ms. Reed taught mortgage licensing classes through the continuing education department at Harold Washington College and Malcolm X College and she teaches biblical and financial literacy classes at her church (Salem Baptist Church of Chicago). Ms. Reed is life and health licensed (Illinois) and works with families to provide financial wellness education. Ms. Reed plans to receive her Bachelor's Degree in Entrepreneurship from DeVry University.
Lynda Lopez
Lynda Lopez is a writer and transportation advocate in Chicago. Lynda is an Advocacy Manager with the Active Transportation Alliance and recently co-authored a report on fair equity in the Chicagoland region. She has previously written for Streetsblog Chicago focusing on equity issues around housing displacement, biking, and transportation in communities of color. As an avid bike advocate, she is the southwest side representative for the Mayor's Bike Advisory Council. She also serves on the Metropolitan Planning Council's transportation committee. On the national level, Lynda is a core organizer with the Untokening, a multiracial collective centering the lived experiences of marginalized communities to address mobility justice and equity and is a member of the Innovations in Transportation Equity for Latino Communities workgroup at UT Health San Antonio. Lynda is a part of Transit Center's inaugural Women Changing Transit Mentorship Program.
For disability accommodations, please contact Christiana Kinder, (312) 996-8700, christia@uic.edu.
If the above RSVP form is not working, please email gcities@uic.edu to RSVP.