Militarizing Rivers
April 8, 2021 @ 6:00 pm

-

7:00 pm

CDT

Free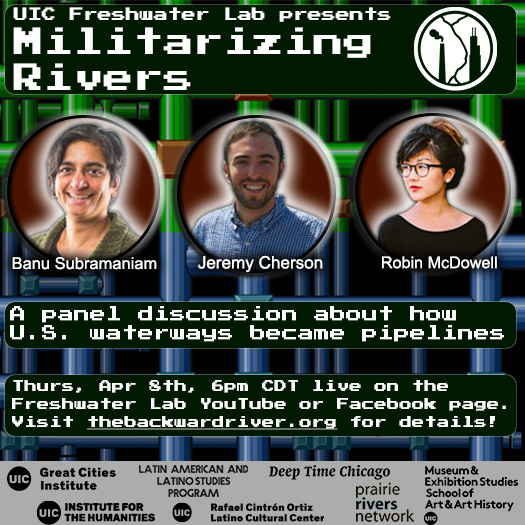 The UIC Freshwater Lab presents: "Militarizing Rivers," a digital panel on Thursday, April 6pm CST.
As part of #TheBackwardRiver project, team members Kathleen Blackburn and Citlalli Trujillo talk water, oil and how water bodies have been straightened and subdued by armed forces with eco-feminist Banu Subramaniam; river policy expert Jeremy Cherson; and historian Robin McDowell.
Why do we call a river, a waterbody known for turns and bends, a pipeline? We think of rivers coursing in a natural path, but pipelines direct flows according to human will. The Chicago River is only one example of how a waterway can be harnessed, straightened into a canal and pressed into the service of conveying coal, oil and petroleum coke. Join our conversation about engineered waterways and the crumbling infrastructure that transforms rivers into pipelines under the auspices of the Army Corps of Engineers. We will ask who benefits from the river-turned-pipeline and who bears the burden. As we look into what flows within the pipelines, we will consider how a militarized river and "invasive species" could be reimagined as public goods.
Watch the live stream on Freshwater Lab's YouTube channel or Facebook page.
This panel is the second in the 2021 Backward River series. "The Backward River" is a digital storytelling project about the Chicago River. The series extends the conversation by lending a voice to the river and amplifying the response by surrounding communities. Watch the first event with Gen Z Environmental Justice Leaders on Facebook and YouTube.
Event co-sponsors:
Deep Time Chicago
Great Cities Institute
Institute for the Humanities, UIC
Latin American and Latino Studies
UIC Latino Cultural Center
UIC Museum and Exhibition Studies
Prairie Rivers Network
Speaker Bios
Banu Subramaniam
Professor Subramaniam's work explores the philosophy, history, and culture of the natural sciences and medicine as they relate to gender, race, ethnicity, and caste. Her latest research rethinks the field and practice of botany in relation to histories of colonialism and xenophobia and explores the wide travels of scientific theories, ideas, and concepts as they relate to migration and invasive species. Subramaniam's newest book, Holy Science: The Biopolitics of Hindu Nationalism (University of Washington Press, 2019), focuses on how science and religion have become interwoven in emergent nationalist politics and novel conceptions of modernity in India. Her previous book, Ghost Stories for Darwin: The Science of Variation and the Politics of Diversity (University of Illinois Press, 2014), was winner of the Ludwik Fleck Prize 2016 for an outstanding book across the breadth of science and technology studies. She is co-editor of Feminist Science Studies: A New Generation (Routledge, 2001) that put Feminist Science Studies on the map.
Jeremy Cherson
Jeremy earned his MS in Environmental Policy at the Bard Center for Environmental Policy in Annandale-on-Hudson in New York's Hudson Valley. Jeremy started his career as an undergraduate at American University in Washington, D.C., organizing support for the McCain-Lieberman climate bill for Environment America in 2007. He has since been an AmeriCorps member in central California, monitored conservation easements in Alabama and Georgia, and served as the camp supervisor at an environmental summer camp in Atlanta. Jeremy now serves as the Advocacy Coordinator working on campaigns across Riverkeeper's portfolio including fossil fuels and clean energy, Hudson River PCBs, Plastic-Pollution, and government relations.
Robin McDowell
Robin is completing her doctorate in the Department of African and African American Studies at Harvard University. Her interdisciplinary research combines methodologies of history, environmental studies, and visual culture with her years of experience in community-centered design and grassroots community organizing in the Greater New Orleans area. She holds an A.M in History from Harvard University, an M.F.A. in Design from the University of Texas at Austin, and a B.A. in Fine Arts from The University of Pennsylvania. Robin is a co-convener of History Design Studio, a workshop for new ideas in multimedia history. In fall 2021, she will join the faculty of the African and African American Studies Department at Washington University in St. Louis as an Assistant Professor.