Remembrance Event: Honoring the Life and Work of John Hagedorn
April 1, 2024 @ 1:00 pm

-

4:00 pm

CDT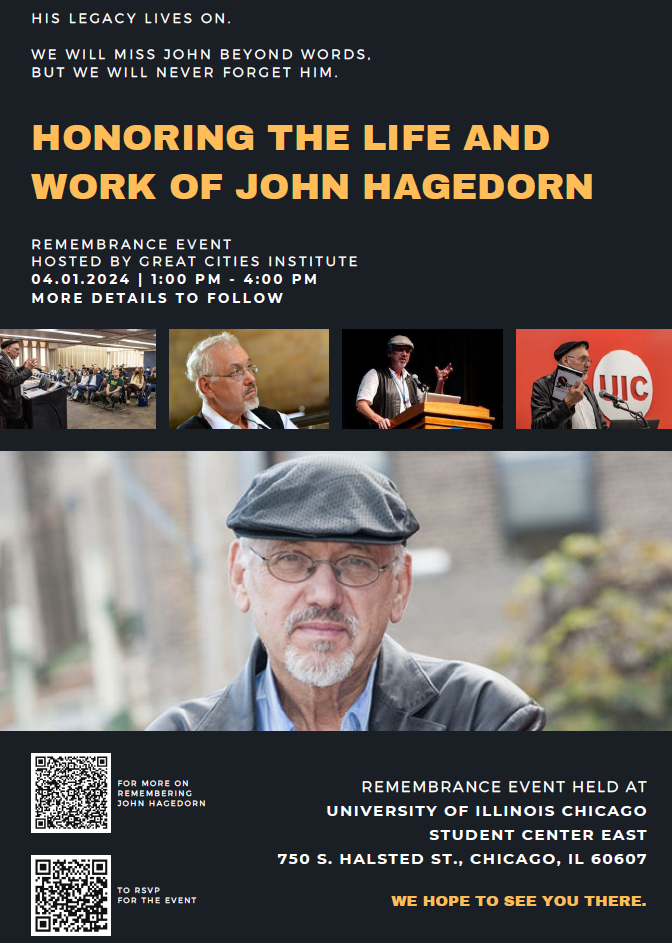 ---
On Tuesday morning, October 31st, 2023, John Hagedorn died peacefully in his home with his family at his side. We deeply mourn the loss of our dear friend and colleague. John had a long-time affiliation with the Great Cities Institute and in 2016 was given the official title of James J. Stukel Senior Faculty Fellow. He was also Professor Emeritus from the Department of Criminology, Law, and Justice. We offer our deepest condolences to his wife, Mary, and to his family.
On the afternoon (from 1:00 PM to 4:00 PM) of April 1, 2024, at Student Center East at UIC (750 S. Halsted), we will be hosting, with the family, an event honoring John and his work. We will feature many of his colleagues as well as former students who themselves have gone on to do incredible work in multiple arenas. More details regarding the event will follow. To RSVP, please click here.
---
John Hagedorn, Ph.D. was a James J. Stukel Fellow with the Great Cities Institute and Professor Emeritus of Criminology, Law, and Justice at the University of Illinois at Chicago. Hagedorn's first book, People & Folks, Gangs, Crime, and the Underclass in a Rustbelt City, argued for more jobs than jails and applied William Julius Wilson's underclass theory to gangs. He was the architect of a neighborhood-based, family centered social service reform in Milwaukee that became the subject of his dissertation, published as Forsaking Our Children: Bureaucracy and Reform in the Child Welfare System (1995). He was editor (with Meda Chesney-Lind), of Female Gangs in America: Essays on Girls, Gangs, and Gender, the only edited volume ever published in the U.S. on female gangs. His interest in Chicago gangs led him to become immersed in the history of the Vice Lords and the importance of race. His global travels further informed his understanding of gangs, which led him to edit the volume Gangs in the Global City based on an international conference at the Great Cities Institute. He was Principal Investigator of a Harry F. Guggenheim study at the Great Cities Institute of why Chicago's homicide rate did not decline like New York City's. He argued in 2007 that the decision to not invest in public housing but demolish it was a major correlate of high rates of violence.  In A World of Gangs (2008), he applied Manuel Castells' work in analyzing gangs, arguing that understanding the cultural struggle for identity was crucial in working with gangs. His 2015 book, The In$ane Chicago Way: The Daring Plan by Chicago Gangs to Create a Spanish Mafia, looks historically at gangs, organized crime, and corruption in Chicago. John truly left a legacy at so many levels, including the many students who adored him. For more on John Hagedorn's legacy, click

here

.