The Kerner Report: 50 Years Later
March 1, 2018 @ 9:00 am

-

11:00 am

CST

Free with RSVP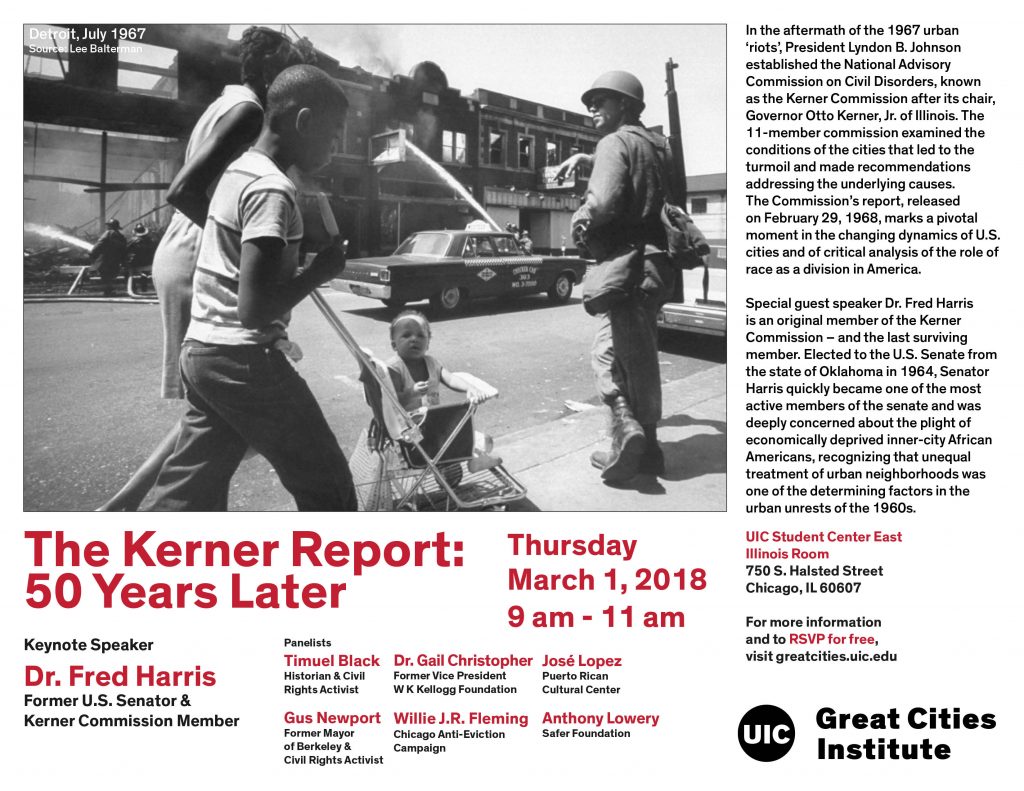 In the aftermath of the 1967 urban 'riots', President Lyndon B. Johnson established the National Advisory Commission on Civil Disorders, known as the Kerner Commission after its chair, Governor Otto Kerner, Jr. of Illinois. The 11-member commission examined the conditions of the cities that led to the turmoil and made recommendations addressing the underlying causes. The Commission's report, released on February 29, 1968, marks a pivotal moment in the changing dynamics of U.S. cities and of critical analysis of the role of race as a division in America.
Special guest speaker Dr. Fred Harris is an original member of the Kerner Commission – and the last surviving member. Elected to the U.S. Senate from the state of Oklahoma in 1964, Senator Harris quickly became one of the most active members of the senate and was deeply concerned about the plight of economically deprived inner-city African Americans, recognizing that unequal treatment of urban neighborhoods was one of the determining factors in the urban unrests of the 1960s.
A panel discussion will follow Dr. Harris' keynote. Noted historian and Chicago civil rights activist Timuel Black will be joined by former mayor of Berkeley and human rights activist Eugene "Gus" Newport and former vice president of the W K Kellogg Foundation, Dr. Gail Christopher. Also included on the panel will be local activists and community builders: José Lopez of the Puerto Rican Cultural Center, Willie J.R. Fleming of the Chicago Anti-Eviction Campaign, and Anthony Lowery of the Safer Foundation.
Part of a full week of activities on the 50th anniversary of the release of the Kerner Report from February 26 through March 2, see the full list here.
Former U. S. Senator Fred Harris is a widely published author, professor emeritus of political science at the University of New Mexico, and now the only surviving member of President Lyndon Johnson's National Advisory Commission on Civil Disorders, more commonly known as the Kerner Commission. Appointed partly at Harris's suggestion following the terrible riots in the African American sections of many American cities during the summer of 1967, the Kerner Commission famously found (March 1, 1968) that "Our nation is moving toward two societies, one white, one black, separate and unequal."
In addition to his two terms as a U.S. Senator, Fred Harris served as National Chair of the Democratic Party in 1969 and 1970, a role in which he reformed the party to increase true democracy and expand representation of women and minorities. After leaving the Senate, Fred Harris became a highly popular UNM political science professor, and was named Outstanding Faculty Member (UNM Alumni Association) and Best Professor (UNM student newspaper) in 2001. Mr. Harris has been a Fulbright Scholar in Mexico; a visiting professor at the Universidad Nacional Autónima de México (UNAM), Mexico's national university; and has taught and lectured extensively throughout Latin America, Europe, and Asia.
Mr. Harris has produced 19 nonfiction books on politics, government, and policy, including The New Populism and Quiet Riots: Cities, Race, and Poverty in the United States. He is the co-editor (with Alan Curtis) of the 2018 book Healing Our Divided Society, a fiftieth-anniversary update of the 1968 Kerner Report. Harris continues to be a citizen and political activist, both at the national level (as a former member of the National Governing Board of Common Cause and former Chairman of the Eisenhower Foundation) and in New Mexico (as a former NM State Chair of the Democratic Party, former chair of Common Cause NM, and Chair of NM Voices for Children).
Timuel Black is a civil rights activist, educator, and historian. Born in Birmingham, Alabama, Mr. Black grew up in Chicago's Bronzeville neighborhood. After serving in World War II and completing his Master's degree at the University of Chicago, Mr. Black was influential in bringing Dr. Martin Luther King, Jr. to Chicago for Dr. King's first major speech in the city. In the years following, Mr. Black organized the Freedom Trains which carried thousands of Chicago residents to the 1963 March on Washington, and later became an influential political organizer and supporter in Harold Washington's successful mayoral campaign.
Mr. Black spent many years as an educator and administrator in Chicago Public Schools and the City Colleges of Chicago, where he focused his efforts on ending segregation within these institutions. He challenged the Daley political machine in a 1963 City Council campaign, introducing the term "plantation politics" into national discourse. Mr. Black was also influential in Former President Barack Obama's work as a Chicago community organizer, and in 2014 joined the Community Advisory Board of the Barack Obama Presidential Library.
In recent years, Mr. Black has interviewed hundreds of African Americans on Chicago's south side to assemble Bridges of Memory, an oral history of the Great Migration and African American life in Chicago. Mr. Black is also in the process of writing his autobiography, entitled Sacred Ground in reference to the spirituality and community of Chicago's south side.
Eugene "Gus" Newport is a civil rights activist and the former mayor of Berkeley, California. Mr. Newport began his political career in his hometown of Rochester, New York in the 1960's as chairman of the Monroe County Non-Partisan Political League, which focused on issues surrounding police brutality, workplace discrimination, and voter registration. He served as mayor of Berkeley from 1979 to 1986.
As an activist for nonviolence, Mr. Newport served as the Vice President from the United States to the World Peace Council from 1980 to 1986, and also served on the United Nations' Committee Against Apartheid and Committee on the Question of Palestine. While serving as Program Director of the Vanguard Foundation, he worked as a consultant to the Louisiana Disaster Recovery Foundation following Hurricane Katrina, and focused his efforts on community planning, organizing, and policy change during the disaster recovery efforts.
Mr. Newport has served as Director of the Institute of Community Economics; the Community Building Support Center for the Urban Strategies Council; and several Neighborhood Initiatives in Florida and Massachusetts. Notably, he was the Executive Director of the Dudley Street Neighborhood Initiative from 1988-1992, where he oversaw the organization's collaborative vision for housing, safety, arts and culture, employment, and youth empowerment in Boston's Roxbury and North Dorchester neighborhoods. He has also been an Advisory Board member of the Committees of Correspondence for Democracy and Socialism and the U.S. Conference of Mayors. Additionally, Mr. Newport has served as a Faculty member, Fellow, and Lecturer-in-Residence at numerous universities, including Yale, the University of Massachusetts – Boston, and the University of California – Santa Cruz. In 2006, he was an MLK Scholar at MIT's Department of Urban Studies and Planning, where he led graduate coursework in planning for disenfranchised urban communities.
Dr. Gail C. Christopher is an award winning social change agent and former Senior Advisor and Vice President of the W. K. Kellogg Foundation (WKKF), one of the world's largest philanthropies.
She is the visionary for and architect of the WKKF led Truth Racial Healing and Transformation (TRHT) effort for America. TRHT is an adaptation of the globally recognized Truth and Reconciliation Commission (TRC) model. TRHT evolved from the decade long WKKF America Healing, racial equity and racial healing initiative, designed and led by Dr. Christopher. Over the last ten years she has had responsibility for several other areas of foundation programming. These include, Food, Health and Well-Being, Leadership, Public Policy, Community Engagement and place-based funding in New Orleans and New Mexico.
In August of 2017, Dr. Christopher left her leadership position with WKKF to launch the Maryland based Ntianu Center for Healing and Nature; and to devote more time to writing and speaking on issues of health, racial healing and human capacity for caring. She is currently Chair of the Board of the Trust for America's Health and a Fellow of The National Academy of Public Administration.
José E. López is a Puerto Rican author, educator, and activist. He has written extensively on the political and social reality of Puerto Ricans in the United States while serving as Executive Director of The Puerto Rican Cultural Center Juan Antonio Corretjer in Chicago, which he co-founded in 1973. Mr. López is also an adjunct instructor at Northeastern Illinois University, Columbia College and the University of Illinois at Chicago.
As an educator and activist, he has been invited to speak at over 50 colleges and universities in the United States, Mexico, Canada, and Puerto Rico, as well as in international forums such as the United Nations Decolonization Committee. For over 40 years, he has been a leading member of the Puerto Rican independence movement and is also the editor of "Puerto Rican Nationalism: A Reader." Presently, he is active in developing new/praxis/theory in community and social empowerment, particularly surrounding educational reform and health inequities in Chicago's Greater Humboldt Park communities. He has served on various Boards, including the Bethany/Advocate Fund Board and the Chicago Public Schools Latino Advisory Committee.
Mr. López is an important voice for policy and legislative reform, and works closely with local and state elected officials to drive policy change. Over the years he has received many recognitions for his work, including the Cook County Board of Commissioners' 2009 Hispanic Heritage Award, the Health and Medicine Policy Research Group's 2010 Health Award, and the Chicago Cultural Alliance's 2014 Outstanding Community Leader Award.
Willie "J.R." Fleming is a seasoned community leader and human rights defender, with a focus on housing rights. He is the co-founder and current Executive Director of the Chicago Anti-Eviction Campaign (AEC). His activism and organizing work began with the devastating impacts of the demolition of public housing on his community. Organizing with groups such as the Chicago Coalition to Protect Public Housing, the Centre on Housing Rights and Evictions, and the Hip Hop Congress, J.R.'s dedication to enforcing human rights grew.  In 2009, he served as the Chicago City Chair for the UN Human Right to Adequate Housing's official mission to the United States.
Shortly after, he co-founded the Chicago Anti-Eviction Campaign. In the AEC's first year alone, the organization built a dynamic city-wide Human Right to Housing Collective, consisting of CHA tenants and families facing foreclosure.  Their work grew nationally and they helped guide the Campaign to Restore National Housing Rights, serving as founding members of its Steering Committee. At the state level, the AEC also won a temporary moratorium on "economically motivated" evictions in Cook County.  The AEC helped tenants living in foreclosed properties to stay in their homes by coordinating with banks to donate homes to churches in the community. As Executive Director of the AEC, JR helps to coordinate foreclosure assistance and trainings with homeowners, tenants, community groups, and churches.
J.R. is also a national advocate for the Women's Ex-offender Re-entry Program (CHA and HUD), has been involved in several successful eviction defenses, and was the recipient of the 2013 U.S. Human Rights Builders Award.
Anthony Lowery is currently the Safer Foundation's Associate Vice President for Community Housing Programs, and an ardent advocate for the creation of new opportunities for people with criminal records. He joined Safer in 2005 to direct the organization's first reentry housing initiative, and previously served as the foundation's Director of Policy and Advocacy, spearheading legislative and administrative efforts to eliminate the systemic barriers to employment for people with criminal records in the state of Illinois and beyond.
With Safer Foundation's Council of Advisors to Reduce Recidivism through Employment (CARRE), Mr. Lowery has brought about widespread criminal justice reform, resulting in new legislation including Certificates of Rehabilitation, Occupational Licensing Reform, Criminal Record Sealing Expansion, and "Ban the Box" for public and private employers. He has been appointed to numerous criminal justice reform task forces, including the Governor's Community Safety and Reentry Commission, the Illinois Inventorying Employment Restrictions Taskforce, the Sex Offenses and Sex Offender Registration Taskforce, and the Cook County MacArthur Justice Challenge.
Over the past 20 years, Mr. Lowery has consulted, developed, and directed programs for people who were chemically dependent with criminal records. He has also directed pre-release reentry programming for the Illinois Department of Human Services; ran education campaigns on healthcare disparities in minority communities; and developed Drug Prevention and Economic Development programs in Chicago Public Housing communities, where he was the recipient of two National Association of Housing and Redevelopment Official Awards (NAHRO) for his work. Mr. Lowery holds a bachelor's degree from Tennessee State University and certification as an Alcohol and Drug Prevention Specialist in the state of Illinois.
–
Part of a full week of activities on the 50th anniversary of the release of the Kerner Report from February 26 through March 2, see the full list here.
Free event, please RSVP above. This event will be live-streamed on our Facebook page.
For disability accommodations please contact Christiana Kinder, (312) 996-8700 or christia@uic.edu.