The National Park Service in your neighborhood: The Rivers, Trails, and Conservation Assistance program and community planning
October 3, 2017 @ 12:00 pm

-

1:30 pm

Free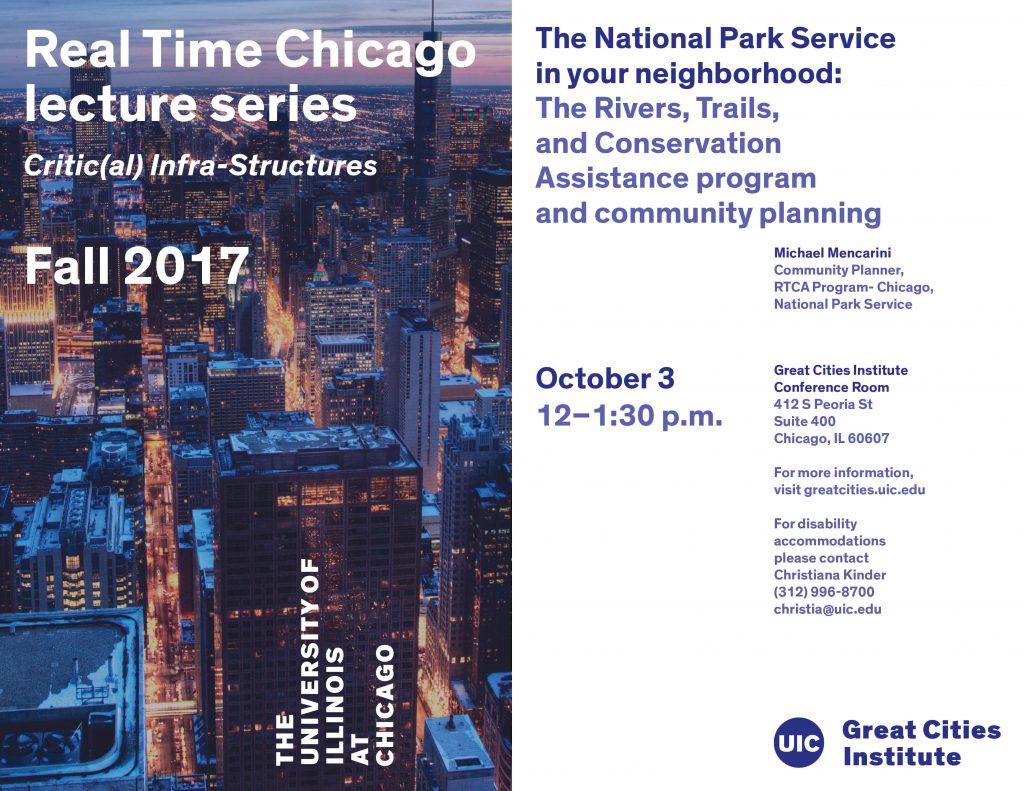 In April, 2016 the National Park Service and the University of Illinois at Chicago entered into a partnership agreement to host a Park Service staff member at the Great Cities Institute. At this event, Community Planner Michael Mencarini will talk about how the Rivers, Trails, and Conservation Assistance Program supports community led outdoor recreation and natural resource conservation projects and his work across the Midwest Region providing technical assistance for river access, bicycle trail development, and green space planning projects.
Michael Mencarini joined the National Park Service in April, 2016 as a Community Planner in the Rivers, Trails, and Conservation Assistance (RTCA) Program. RTCA is a community partnership focused program that provides technical assistance to local governments or community organizations that are planning outdoor recreation or natural resource conservation projects. Through a partnership agreement with the University of Illinois at Chicago, his position is hosted by the Great Cities Institute.
Before joining the National Park Service he was a Presidential Management Fellow with the U.S. Department of Health and Human Services, where he was assigned as a regional office liaison to state agencies and tribal governments across the Midwest. Prior federal experience also includes positions working with the U.S. Department of Justice and the Chicago Federal Executive Board.
As a Community Planner with the Midwest Regional Office RTCA Program, he is currently working on strategic planning and community outreach initiatives across three states. These include a 300 acre park planning project in Michigan, river access and green space visioning projects in Chicago, and a regional bicycle trail planning project in Missouri.
–
For disability accommodations please contact Christiana Kinder, (312) 996-8700 or christia@uic.edu.