'When Will the Punishment End?': Formerly Incarcerated Women Rebuilding Their Lives
July 20, 2018 @ 3:00 pm

-

5:00 pm

CDT

Free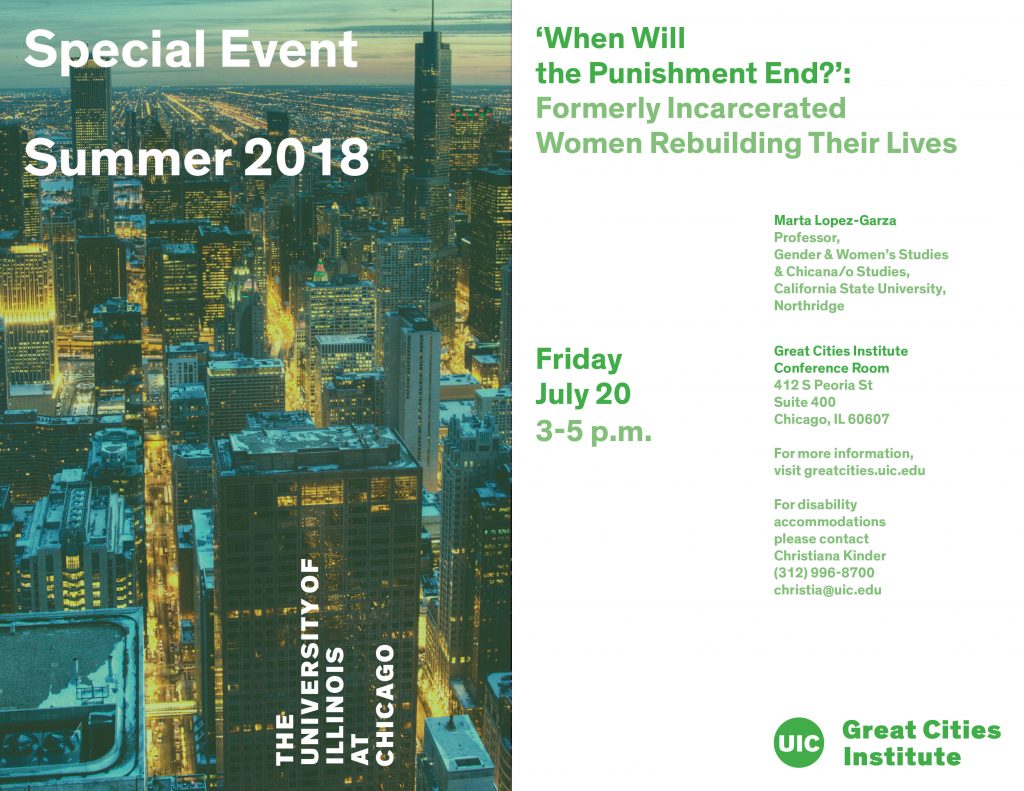 This talk will be about Professor Garza's work with formerly incarcerated women in both the academic and community arenas. She will speak about a new organization of formerly incarcerated students at the CSUN campus along with her work in the Watts neighborhood of south Los Angeles with A New Way of Life and Susan Burton, a group of formerly incarcerated women activists who are not only committed to changing their lives but also, most importantly, changing the regressive policies at the state (California) and national levels. The CSUN student organization, Revolutionary Scholars, is composed of critically minded students who have networked with other formerly incarcerated students state and nationwide; and Susan Burton is the author of "Becoming Ms Burton," and has been written about in many academic and scholarly publications, including Michelle Alexander's "The New Jim Crow."
Professor Marta López-Garza holds a joint position in Gender & Women's Studies and Chicana/o Studies Departments at California State University, Northridge.  She also co-directs Civil Discourse & Social Change, a campus wide Initiative combining education with avenues for community involvement and sustained activism.
López-Garza's most current research is on formerly incarcerated women, the subject of her documentary "When Will the Punishment End?" which can be viewed on here. This film follows the women in their journey from prison back to their communities, and their attempts to rebuild their lives and reunite with their families.
Recent publications include:
"Formerly Incarcerated Women Speak Out," Journal of Progressive Human Services. 27: 2, 2016.
"Exploring the Intersections between Scholarship and Activism: Our Journey from Community Concerns to Scholarly Work," White Washing American Education: The New Culture Wars in Ethnic Studies, editors Tracy Buenavista, James R. Marin, Anthony J. Ratcliff, Denise M. Sandoval. Santa Barbara, CA and Denver, CO: Praeger Publishers/ABC-CLIO. coauthors, Mary Pardo and Yarma Velázquez Vargas, 2016.
"Race Classification: The Question of Categorization and Claiming Indigeneity," U.S. Latino Issues, 2nd Edition, editor Rodolfo Acuña. Santa Barbara, CA: Greenwood and ABC-CLIO Press, 2017.
"Formerly Incarcerated Women: Stories of Returning Home, to Family and Community," Research Justice: Methodologies for Change, editor Andrew Jolivette, Policy Press, Bristol, UK, 2015.