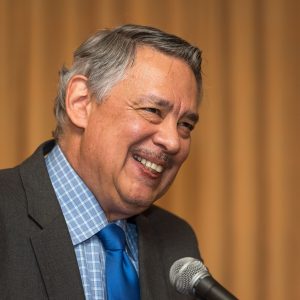 Email: juangon1@uic.edu
Twitter: @juangon68
Juan González is a Senior Research Fellow at Great Cities Institute.
Throughout his career, González has become known as one of the most well-regarded Latino journalists in the United States. He was a staff columnist for New York's The Daily News for nearly thirty years, has been a co-host since 1996 of the morning news show Democracy Now, and was the Richard D. Heffner Professor of Communications and Public Policy at Rutgers University from 2017 to 2023.
His investigative reports on the labor movement, environmental justice, race relations, and urban policy have garnered numerous accolades, including two George Polk Awards for commentary, and he became in 2015 the first Latino to be inducted into the New York Journalism Hall of Fame by the Society of Professional Journalists' Deadline Club. He is the author of five books, including the classic Harvest of Empire: A History of Latinos in America (2001), which became the basis of an award-winning 2012 feature documentary film narrated by González and which is now in its third edition. His News for All the People: The Epic Story of Race and the American Media (2011), which he co-authored with Joseph Torres, was a New York Times best-seller and a finalist for the Robert F. Kennedy Book Award. His Reclaiming Gotham, Bill de Blasio and the Movement to End America's Tale of Two Cities (2017), examines the rise of progressive elected officials in cities across the United States and their efforts to revise urban policies.
Over the years, more than two dozen films and documentaries have featured González as a figure or expert commentator, including the landmark PBS series Latino Americans (2013); the PBS documentary 9/11's Unsettled Dust (2021); the CNN series 1968: The Year that Changed America, (2018); HBO Max's docuseries Menudo: Forever Young (2022); the Ric Burns history of Latino New York, Nueva York (2010); the PBS biography Roberto Clemente (2008); and Spike-TV's Viva Baseball (2005).
A founder and past president of the National Association of Hispanic Journalists, González developed in 2002, while serving as the group's president, an innovative effort to build partnerships between mainstream media companies and local Latino community leaders aimed at improving coverage of those communities and hiring and promoting more Latinx journalists. The initiative, known as the Parity Project, garnered more than $1.5 million in grants from the McCormick Tribune Foundation and the Knight Foundation to expand to more than a dozen cities.
González was born in Puerto Rico, raised in New York City's East Harlem, and received his B.A. from Columbia University.