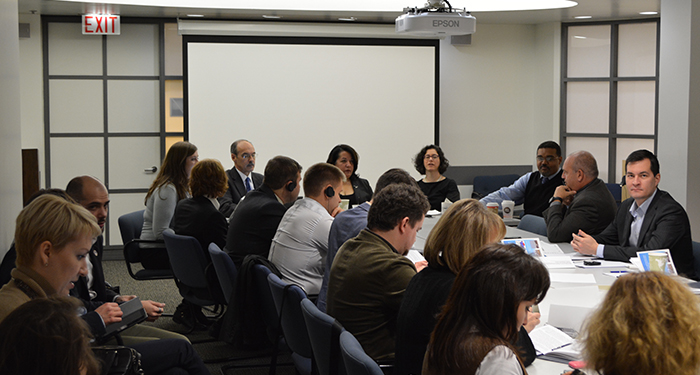 For the fourth year in a row, a delegation of civic leaders from Russian visited Great Cities Institute to learn about the activities at GCI, The College of Urban Planning and Urban Affairs (CUPPA), and UIC. The visit is organized and supported by Open World Leadership Center (Library of Congress), American Council of Civil Society in Russia, Inc., Moscow School of Civic Education, and UIC Great Cities Institute. The Moscow School of Civic Education, a non-governmental organization, was established in 1993 "to promote the development of civil society in Russia."
The delegation will be in the Chicago area for the week. Besides cultural tours and eating the wonderful Chicago cuisines, the group is meeting with various individuals and organizations. Today, November 10, 2014 they spent the day with us at GCI.
Megan McKenna, GCI affiliated Research Specialist, is assisting with the local coordination and moderated today's panels. We opened the visit for the delegation with a presentation on federalism in the U.S. with Public Administration professor, Michael Siciliano.
This was followed by a panel on University and the Community with Dean and GCI Fellow, Michael Pagano; Rachel Weber, former GCI Associate Director and professor in Urban Planning and Policy; Joe Hoereth, Director, Institute for Policy and Civic Engagement (IPCE); and Teresa Córdova, GCI Director.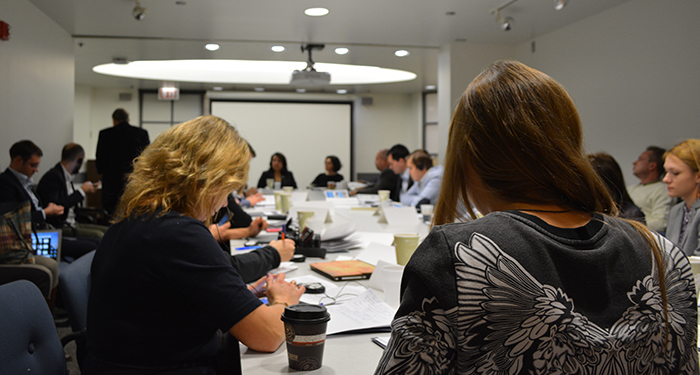 After lunch, the roundtable discussions featured, former GCI Faculty Scholar and UIC Professor of Political Science, Dick Simpson, who spoke on Chicago politics; GCI's (and IPCE's) Thea Crum who spoke on Participatory Budgeting; Peter Creticos, President and Executive Director of Institute for Work and the Economy who spoke on workforce development; and Emily Harris, Vice President of Metropolis Strategies.
For the rest of the week, they will visit MacArthur Foundation to learn about foundation work and neighborhoods; Columbia College to learn about media; they will tour neighborhoods on Wednesday; Thursday they will head to Waukegan to learn about local governance; and Friday their visits will focus on social services and business. From there they will head to Washington, D.C.
The delegates were full of questions and insights and the exchange has been very enriching. We look forward to further dialogue and partnerships with civic leaders in Russia.