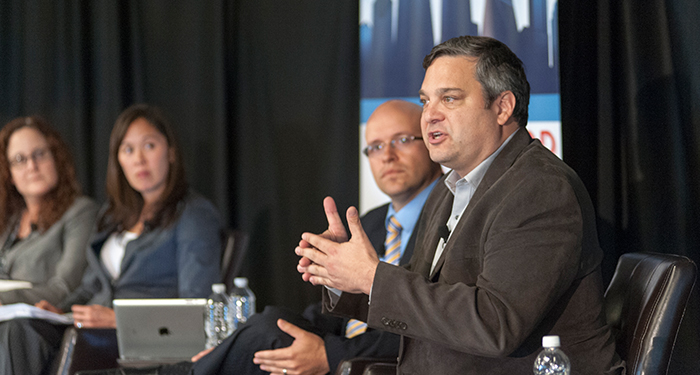 The UIC Office of the Vice Chancellor for Research (OVCR) has awarded the Distinguished Researcher award to GCI Fellow and UPP Professor Nik Theodore. The Distinguished Researcher award is given to five UIC researchers who have demonstrated outstanding achievements in their field of expertise. Dr. Theodore's internationally influential scholarship in labor economics yields real world impacts felt not only in academy but the halls of public policy institutions like Congress. His research addresses timely issues including the problems of "wage theft" (undocumented workers paid less than minimum wage or not compensated for overtime), minimum wage, the informal economy, and worker exploitation. His recent scholarship has placed him in the forefront of global researchers studying the growing phenomenon known as "day laborers". His testimony to various governmental bodies, including state legislatures, are instrumental in shaping contemporary public policy to combat unfair working conditions and increase the minimum wage, and has directly impacted the lives of a large segment of the working poor.
Dr. Theodore's scholarship is extraordinary in both quantity and quality – averaging 8-10 articles and book chapters per year for the past 15 years. He was named editor of the international journal Antipode in recognition of his standing in the field. According to the 2014 Thomson Reuters ranking of the top cited scholars, Theodore is one of only three social science scholars in Illinois and one of only two urban planning professors in the world listed in the top 1% group. His work has been cited by numerous media outlets including the New York Times, NPR, PRI, NBC, Fortune Magazine, and others.
In honor of the recipients of the UIC Researchers of the Year Award, an awards ceremony and reception will be held on February 25, 2015 from 3:30 pm to 6:00pm in the Michele M. Thompson Rooms of the UIC Student Center West at 828 South Wolcott Avenue.  To RSVP for the award ceremony, or for more information, please go to http://research.uic.edu/roy/rsvp.