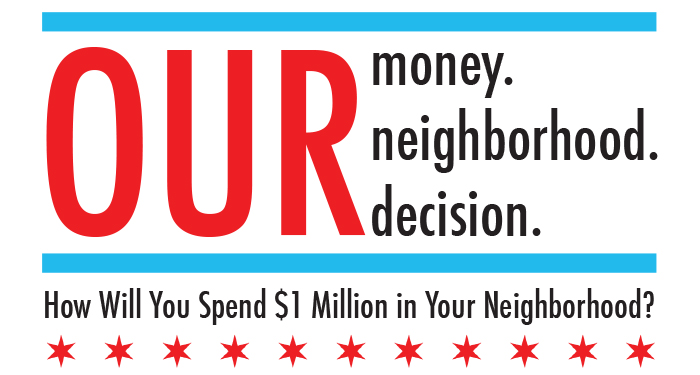 Chicago's election day is just two weeks away. To help voters prepare, Active Transportation Alliance has just released its' 2015 Active Transportation Voter Guide. The guide is an educational resource designed to inform Chicago voters and the general public about the views of candidates in their ward on walking, biking and public transit issues.
Participatory budgeting (PB) has proven to be a useful tool for aldermen to engage residents in determining the infrastructure needs in their ward and how to spend discretionary "menu money" to address local transportation and infrastructure needs.
As a PB Chicago Steering Committee member, Active Trans also asked aldermanic candidates if they supported bringing PB to their ward. 73 of 184 aldermanic candidates responded to the survey for a 40% response rate. Of those that responded, 53 aldermanic candidates indicated that they would support bringing PB to their wards if elected.
The Great Cities Institute's Neighborhoods Initiative has been one of the project leads working to expand PB throughout the City of Chicago. PB is a democratic process in which community members directly decide how to spend part of a public budget. The United Nations and the Obama Administration have supported PB as a best practice in democratic governance.
PB deepens democracy, leads to more informed and fairer decisions, provides high levels of accountability and transparency in public budgeting, builds stronger communities, and educates the public about complex political issues and how local government works.
Neighborhoods Initiative brings the resources of the university to communities implementing PB by:
providing community level data and maps that educate residents about their wards,
training and technical assistance on community development and outreach to marginalized populations,
connecting residents with experts in local infrastructure issues, and
conducting the research and evaluation of the process to continually refine and improve PB locally.
As a non-partisan 501(c)3 not-for-profit organizations, the Great Cities Institute and Active Trans do not endorse candidates.
About the Author:
Thea Crum, Economic Development Planner: As an Economic Development Planner for GCI's Neighborhoods Initiative, Thea works in collaboration with community-based organizations and university faculty, staff, and students to provide training and technical assistance on community and economic development projects. She is the lead staff person on the Participatory Budgeting Chicago initiative.