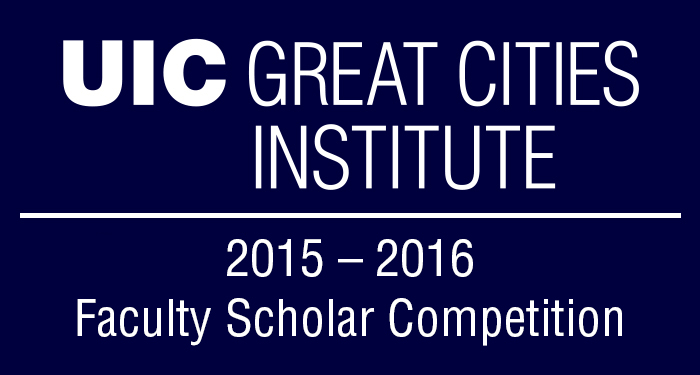 UPDATE: Attention Research Scholar Applicants

The research scholar application deadline has been extended until 5 p.m. on Monday, March 16.

Due to ongoing construction in CUPPA Hall, applications may be turned in the following ways:

1. Drop off the application packet to Jackson Morsey at M2 cafe on the corner Peoria and Jackson between the hours of 9:30 a.m. and 12:00 noon on Monday.

2. Drop off the application at our temporary offices in Student Residence Hall, 818 S Wolcott, 6th floor, above Student Center West.

3. Send the application via campus mail to Jackson Morsey, CUPPAH MC 107
Open to: All full-time tenured, tenure-track, and clinical faculty at the rank of Assistant Professor and above
Deadline: March 16, 2015, by 5pm.
The Great Cities Institute is inviting proposals for its twentieth annual Faculty Scholar competition. The deadline for submission is March 16, 2015.
We apologize for the lateness of this announcement, due largely to uncertainty related to impending budget cuts. While we do not want to eliminate the Faculty Scholar program, we will likely offer fewer awards and possibly shorter terms.
The Great Cities Institute, a campus-wide institute with a campus-wide mission, is housed in the College of Urban Planning and Public Affairs. Since its inception in 1995, the Institute has appointed 160 Faculty Scholars from over 36 different departments and other units at UIC. The GCI Faculty Scholars Program provides awardees the opportunity to conduct research that contributes to their professional development, enriches their respective academic discipline and leads to changes in policy and professional practice outside the academy.
For the 2015-2016 Competition the Faculty Scholar proposals will be judged on the extent to which they address UIC's Urban Mission to connect scholarship and the quality of life in cities and metropolitan regions. We are particularly interested in proposals that connect to the four major research clusters of GCI: employment and economic development; local and regional governance; dynamics of global mobility; and energy and environment.
Proposals from individual researchers and research teams will be accepted. Awards will be made for terms of appointment for up to one full academic year beginning in the Fall Semester, 2015. Research teams may choose to share a one-year appointment, but an individual team may not receive more than one-year equivalent.
If you have any questions concerning the Faculty Scholar Competition, please contact us at gcities@uic.edu. We look forward to receiving your proposals.
Please see attached for full guidelines. Announcement & Guidelines (Word Doc) Application Form (Word Doc)