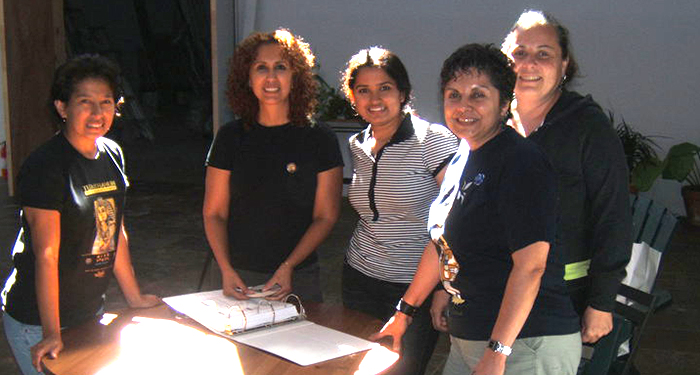 The Great Cities Institute (GCI) and Women for Economic Justice (WEJ) engaged in a two-day workshop on building women's economic power. WEJ is an organization comprised by women who are activists, advocates and academics who seek to address economic injustice by creating economic development programs that are culturally relevant to the women they work with. By targeting women, WEJ contributes to the economic development of families and communities as a whole. WEJ works with community based organization and grassroots women's groups to promote financial literacy and entrepreneurship through business cooperatives. WEJ works with economically marginalized women, particularly women of color and survivors of gender-based violence.
The goal of the two-day workshop was to formalize a partnership between GCI and WEJ and to review WEJ's curriculum on cooperative business development that they use to facilitate empowerment though cooperative business education. WEJ's curriculum builds skills such as basic financial literacy, budgeting, and also develops awareness about social, economic and political circumstances that have maintained gender, racial, citizenship, sexuality and other identity based inequality. The curriculum includes macro concepts such as globalization and impacts of social and economic policies as a way to provide insight into the conditions and forces imposing on the economic outcomes for low-income women. GCI will continue to work with WEJ to develop research and evaluation methods to monitor effectiveness of WEJ's cooperative business development activities.
WEJ prioritizes the cooperative business model as a means of providing women with quality employment and positive economic outcomes. Economic empowerment contributes to reduce women's vulnerability to violence and increases their ability to balance dynamics of power. With a gender and trauma informed (or survivor centered) focused curriculum, WEJ's program encourages development of critical analysis, and leadership skills. The curriculum builds on the experiences and needs of the participants. During the workshop, attendees shared their stories in establishing and being a member of a cooperative business. These stories will become the basis for further refining the curriculum. Among the greatest challenges faced were access to start-up capital and competition from businesses providing similar products. Competition was of tremendous importance to discuss and strategize around as it affects the ability for the cooperative owners to pay themselves.
Women in the workshop spoke about the benefits of being a cooperative business owner including how cooperatives provide increased schedule flexibility and the ability to rely on co-owners in times of need (creating a sense of solidarity), create a positive community environment in which to conduct business, and improve the treatment of workers as owners. In contrast to previous employment, most women found the cooperative model created better working conditions and found it to be a pathway to build economic power.
GCI and WEJ's partnership comes at a crucial time when income inequality is deepening and systemic economic injustices affect the lives of women, families, and communities. This partnership moving forward will work to strengthen the curriculum and explore means to provide support services to aid the establishment of women-owned cooperative businesses. This collaboration builds on GCI's focus on local employment and economic development. We look forward to the evolution of GCI and WEJ's partnership and activities.
Matt Wilson, GCI Economic Development Planner: Primarily working within GCI's Neighborhoods Initiative, Matt works in collaboration with community-based organizations, university faculty, and staff to provide technical assistance and services for community and economic development projects.