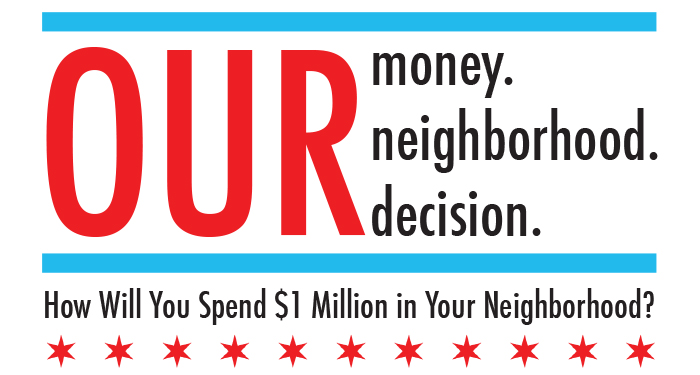 Participatory Budgeting Chicago (PB Chicago), one of the Great Cities Institute's main programmatic priorities, will be tripling in size this coming year. PB Chicago is a collaborative initiative that aims to build a more democratic and equitable approach to public spending in Chicago by implementing and expanding participatory budgeting processes throughout the city.
Since its inception, PB Chicago has engaged over 9,000 residents to directly decided how to allocate over $12 million in public dollars. Through the process more than 60 high-impact projects have been developed and funded such as street resurfacing and sidewalk repairs, park and public school improvements, pedestrian safety projects, bike lanes, murals, new trees, and much more. For the 2015-2016 participatory budgeting (PB) cycle, PB Chicago is expanding from three wards to eight.
In the spring of 2015, the Chicago City Council saw significant turnover, electing 13 new aldermen to serve in wards across the city. Some ran for unoccupied seats left empty by the ward remapping; others were elected over long-serving incumbent candidates. Five of these new aldermen will be joining three returning partners to open up $1 million each in capital infrastructure funds to their constituents. The eight wards participating in PB Chicago 2015-16 are:
10th Ward – Ald. Susan Garza
17th Ward – Ald. David Moore
22nd Ward – Ald. Ricardo Munoz*
31st Ward – Ald. Milly Santiago
35th Ward – Ald. Carlos Ramirez-Rosa
36th Ward – Ald. Gilbert Villegas
45th Ward – Ald. John Arena*
49th Ward – Ald. Joe Moore*
*returning partner
In 2015-16, PB Chicago will serve over 425,000 residents across the eight wards and will determine the allocation of $8 million. This expansion is an important step in PB Chicago's efforts to institutionalize participatory budgeting in the City of Chicago. In November 2013, the Mayor and City Council voted to fund the hiring of a new City of Chicago Assistant Budget Director whose primary task is to support alderman as they implement PB projects.  PB Chicago is working with city to improve the transparency and tracking of winning projects so that residents can follow the implementation process.
As the initiative grows, PB Chicago is hoping to continue engaging youth at a higher rate. Alongside partners such as Embarc and Mikva Challenge, PB Chicago has worked in Chicago Public Schools – such as Sullivan High School in the 49th Ward – to facilitate the PB process for students. This cycle will look to include more schools in the new partner wards. By including citizens at an early age, PB Chicago inspires civic engagement and builds sustainability into the PB process.
PB Chicago is currently preparing for the upcoming PB cycle. Starting in October, ward offices will begin organizing idea collection events to solicit project ideas from community members about how to allocate PB funds. Thousands of Chicagoans will share their ideas for improving their communities in a democratic and transparent way. To find out how you can be a part of PB Chicago this year please visit GCI's website and PB Chicago's website or follow along on social media as PB Chicago opens up government to the people.
About the Author:
Thea Crum, GCI Director of Neighborhoods Initiative: As the Director of GCI's Neighborhoods Initiative, Thea works in collaboration with community-based organizations, elected officials, and university faculty, staff, and students to provide training, technical assistance, and applied research on community and economic development projects. She is the lead staff person on the Participatory Budgeting Chicago initiative and is a member of the North American Participatory Budgeting Research Board.