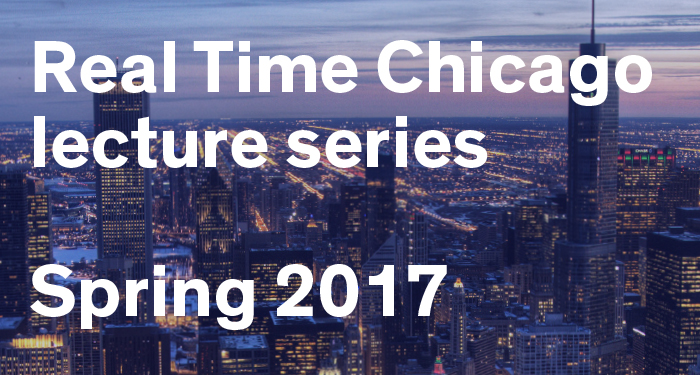 There are many seemingly intractable, multi-sectoral and complex challenges facing our communities that present many opportunities for innovative policy responses and action. As governments continue to reduce their involvement in direct service provision, a focus on innovative approaches to addressing challenging and complex social problems has become imperative.
For Spring Semester 2017, the Great Cities Institute's (GCI) Real Time Chicago lecture series is focused on the notions of social innovation and social entrepreneurship.
On February 8th, Marc J. Lane, of The Law Offices of Marc J. Lane, P.C., and Vice Chair of the Cook County Commission on Social Innovation opened the series with an overview of his work at the state and county level to promote mission-driven ventures as the solution to many vexing social problems. Then on February 22nd, Claudia Alcantara of the Empresarias del Futuro program at Muejeres Latinas en Acción shared her organization's strategy for empowering women to open small businesses and create wealth for their communities.
This Wednesday, March 8th, the conversation on social innovation continues as we host Clayton Harris III. He serves as the executive director of the Illinois International Port District and will discuss the five-year strategic plan to bring viability back to the port with a focus on economic, environmental, recreational, industrial, and conservation strategies (E.R.I.C.).
March 15, GCI will host David Doig, president of Chicago Neighborhood Initiatives, where he will discuss the creation of CNI in 2010 to coordinate resources, economic development and neighborhood revitalization efforts for Chicagoland's low-to-moderate income neighborhoods.
April 5, Ders Anderson, Greenways Director of Openlands, will speak on job creation surrounding Lake Calumet.
To finish the series, on April 12, Mark Yates, Vice President of Social Enterprise, will be focusing on job programming at the Safer Foundation to reduce recidivism.
As part of GCI's work on economic development, this lecture series will translate into programmatic work to foster a diverse ecosystem of entrepreneurial activity focused on how social innovation and social entrepreneurship can address some of the country's major economic and social challenges.
Real Time Chicago lectures begin at 12 noon in the GCI Conference Room, 4th floor of CUPPA Hall. A light lunch will be provided.