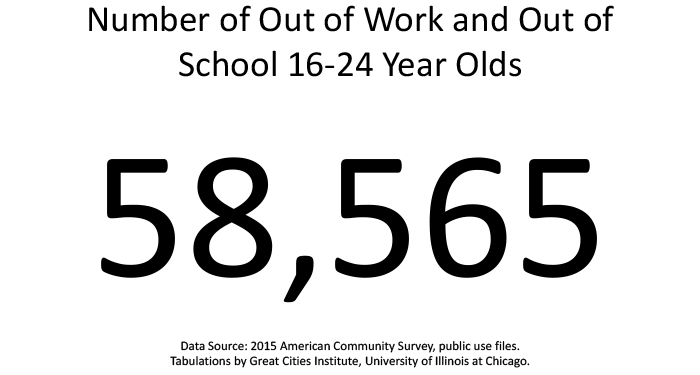 When Chicagoans learned that nearly half of Chicago's young Black men ages 20-24 were out of school and out of work in 2014, attention focused throughout the city on a long standing problem.  That finding came from the January 2016 Great Cities Institute report commissioned by the Alternative Schools Network (ASN) and released at the Chicago Urban League. The figures from a series of GCI reports complemented what the young people had been telling us, "We want to work."  Based on the data, GCI described the problem as "chronic, concentrated and comparatively worse" than Los Angeles, New York, Illinois and the U.S. as a whole. The report called for "all hands on deck" to address the expansiveness of the problem, which it said has ramifications for all aspects of young peoples' lives.
A year later in January 2017, Great Cities Institute released another report, also commissioned by ASN and released at the Urban League to an audience of elected officials, non-profits that work with youth, and young people themselves.  Another figure from that report highlighted the extent of Chicago's joblessness problem.  Namely, there were 58,565 16 to 24 year olds in the city of Chicago who were neither in work, nor in school in 2015.  This group is often described as Disconnected or Opportunity Youth.
It has been our hope, that with these reports, the work of those organizations that have stood by these young people to provide support and help them find employment opportunities would be enhanced and expanded.  We also hoped that new initiatives to supplement these efforts would emerge to tackle this issue, which is tied to violence and other social and personal issues.
Of those new initiatives, Thrive Chicago, a recently formed non-profit organization, sponsored an Opportunity Youth Summit on March 14, 2017, with approximately 300 attendees including foundations, community-based organization representatives, educators, and members of the business community. After welcoming remarks and an introduction by the Mayor, Father Pfleger from Saint Sabina Church delivered a keynote speech.  Three panels followed.  Teresa Cordova, Director of GCI, opened the research panel; a youth programs panel featured Jack Wuest, Executive Director of ASN and Quiwana Bell, Chief Operations Officer of the Westside Health Authority, and a youth dialogue panel moderated by Berto Aguayo, Safety Organizer for The Resurrection Project.  Carmelo Barbaro, Executive Director of University of Chicago's Poverty Lab announced a $3.6 million award from the Laura and John Arnold Foundation to further study Opportunity Youth. The full program included additional excellent moderators and speakers.
To conclude the summit, Thrive Chicago announced general strategies developed from several months of facilitated working groups with the goal to reconnect 10,000 Opportunity Youth by 2020.
For more information on Thrive Chicago's Opportunity Youth work, visit their website.