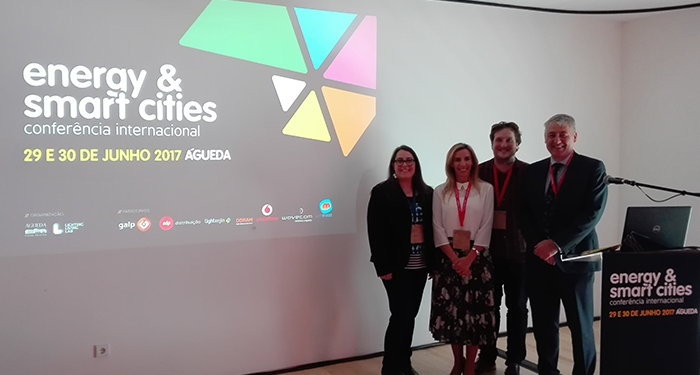 Great Cities Institute's Director of Neighborhoods Initiative, Thea Crum, had the honor of speaking about public participation and Participatory Budgeting Chicago at the international conference Energy & Smart Cities in Águeda, Portugal, June 29–30, 2017. The conference included speakers and participants from around the world, including elected officials, academics and scholars, practitioners, private sector professionals, and members of the scientific community.
Águeda, widely known as the first smart city in Portugal, is at the forefront of sustainable urban innovation. The city's Sustainable Energy Action Plan focuses on renewable energy use, intelligent energy management, adaptation to climate change, and investments in water and waste sectors. The city has already achieved a 20% reduction in greenhouse gas emissions and has pledged to reach an overall 33% decrease by 2050. All of this made Águeda the ideal host city for the conference.
Conference presenters and attendees covered a broad range of topics, from smart education to the future of connectivity, intelligent mobility, the circular economy, energy and smart sensing, transparency and open data, smart government, and public participation. Importantly, public participation is a key component to building smart cities, as it ensures that policies, planning, and innovative technology all place people at the center of the solutions they offer.
Members of the panel on public participation shared their participatory budgeting experiences in Chicago, as well as in Águeda and Lisbon, and discussed the challenges facing participatory democracy in Europe. Key themes that emerged were a need to shift the mindset of elected officials and agency staff in order to reduce their fears of public participation, increased openness to experimentation, the use of new technology platforms that aid in participation together with face-to-face strategies, and the creation of international communities of practice to exchange tools, knowledge, and experience.
Thea says that—aside from spending time in the wonderfully welcoming and engaging city of Águeda—an important takeaway from participating in the conference is that the active engagement of local residents is central to the creation of smart cities. Participatory budgeting is at the forefront of that engagement, and there was much to learn from and exchange about participatory budgeting and its successes and challenges in Águeda.