Welcome to the Fall 2017 semester. As the new academic year starts, Great Cities Institute has many exciting things in the works.
On Wednesday, September 6 at 12 noon, Professor and GCI Fellow Sanjeev Vidyarthi will be speaking about his new book on urban planning in India as part of our Cities Across the Globe lecture series. Join us for a light lunch for this talk titled 'Understanding India's New Approach to Spatial Planning and Development: A Salient Shift?'.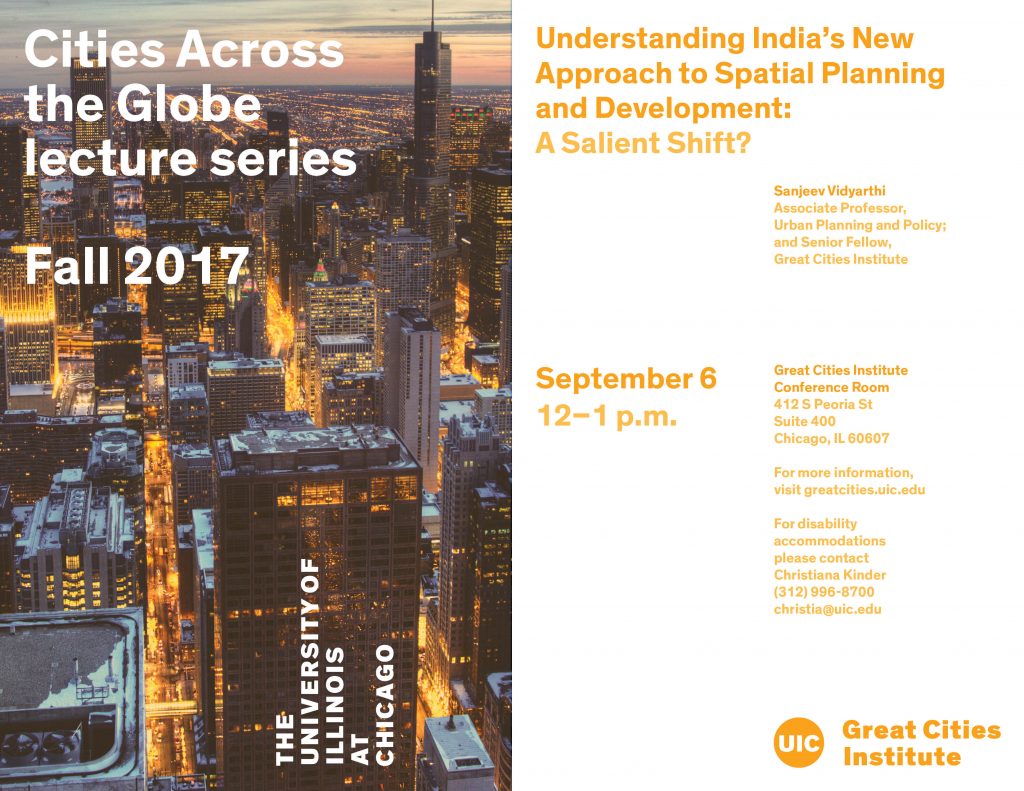 We're excited to announce this semester's Real Time Chicago lecture series theme is 'Critic(al) Infra-Structures', examining the processes and procedures in the creation of new and renewed infrastructure and the impacts on communities from multiple scales and perspectives. The lectures this semester will be on Tuesdays at 12 noon, and light lunches will be provided.
The first lecture in the series will be on September 19 and is titled 'The Impact of Infrastructure on Communities: Three Rail-to-Trail Projects'. When new infrastructure is created in communities, what are the impacts on existing residents? This topic will explore the creation of three rail-to-trail projects in Chicago from initial dreaming to post-implementation community changes, and what is being done to remedy communities' concerns. More topics will be announced in the coming weeks.
GCI will be releasing an annual report of the past year of progress on our research and projects in October, but to give a brief highlight, we released two reports on the issue of youth employment in Chicago and Cook County; began a project to examine the crime and criminal justice in Peoria, Illinois; will soon release a study on Latino transportation access to jobs; continued to facilitate a community planning process for the Back of the Yards community; will continue to implement several projects from the South Chicago Commercial Avenue Revitalization Plan; completed the Pilsen Quality-of-Life planning process; expanded Participatory Budgeting into additional wards and schools; and hosted or co-sponsored over fifteen events.
We also would like to welcome our new research assistants this semester:  Benjamin Corpuz, Amber Farrell, Katherine Faydash, Kevin Peralta, and Elisabeth Rask. With our many ongoing projects, they are already well-integrated into our GCI family and completing crucial work to advance our mission.