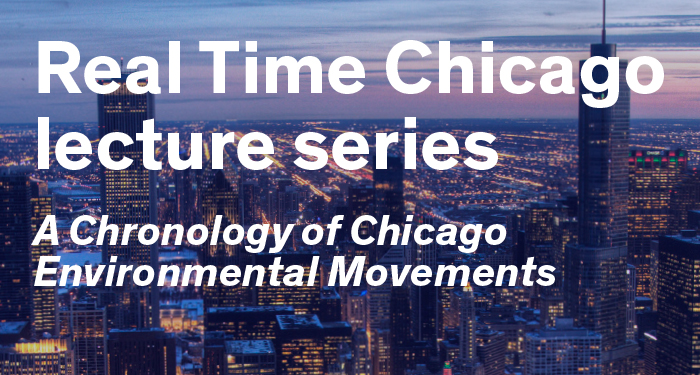 The Great Cities Institute (GCI) is happy to announce that its Spring Semester theme of the Real Time Chicago lecture series will focus on the environmental activism over the span of Chicago's 185-year history.
The first lecture, 'Parks, Plans, and Prejudice: The Environmental Politics of Outdoor Recreation', will be held on Tuesday, February 13. We are very excited that Professor Harold L. Platt, Professor Emeritus of History at Loyola University Chicago, will kick off the first in the series of four lectures. He is the author or editor of several books, including The Electric City: Energy and the Growth of the Chicago Area; Shock Cities: The Environmental Transformation and Reform of Manchester and Chicago; and Sinking Chicago: Climate Change and the Remaking of a Flood-Prone Environment. He has twice won the book-of-the-year award from the American Public Works Association. The 1909 Burnham Plan of Chicago provided the city with a guiding document that helped prioritize order, beautification, and of course, open green space for the modern 20th century American city. Professor Platt will unveil the inherent values that were instrumental in the creation of the Park District and the spatial distribution of parks on the basis of race, ethnicity and class.
The following week on Tuesday, February 20, former Executive Director of the Metropolitan Water Reclamation District of Greater Chicago, Richard Lanyon, will speak on 'The Reversal of the Chicago River: Bridging environmentalism and urban development'. Mr. Lanyon will guide us through the history of the reversal of the Chicago River and discuss its environmental and economic legacy on the Chicago region.
Be on the lookout for two more panel topics focused on environmental justice.
Real Time Chicago lectures begin at 12 noon in the GCI Conference Room, 4th floor of CUPPA Hall. A light lunch will be provided.