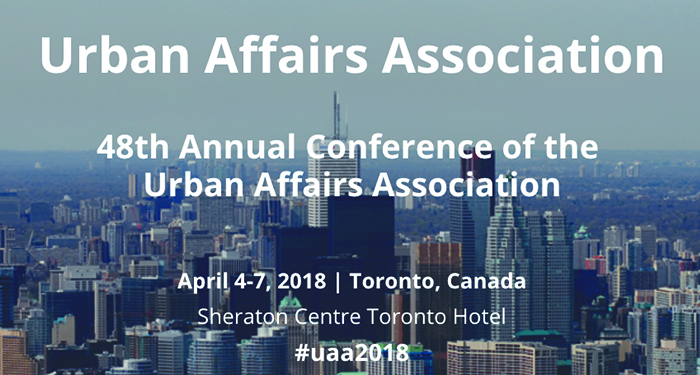 The 48th Annual Conference of the Urban Affairs Association was held April 4-7, 2018 in Toronto, Ontario, Canada. The conference opened with a plenary featuring local community development initiatives by the Thorncliffe Park Women's Committee, Toronto Aboriginal Support Services Council and The Greenbelt Foundation.
Great Cities Institute was well represented: Teresa Córdova presented some of the Great Cities work on joblessness among young people, Matt Wilson presented on "Current Poverty in Chicago: A Refined Understanding" and Timothy Imeokparia presented on "Theorizing Possibility as a Practical, Political, and Philosophic Limit on the Radical Project." In addition, faculty from the College of Urban Planning and Public Affairs on the program included Professors Jered Carr and Michael Siciliano on "Macro Explorations of Network Composition and Change in Intergovernmental Service Agreements: An Initial Analysis and Research Agenda"; Phil Ashton and Rachel Weber on "Hordes with Cash: Real Estate Funding Platforms and the Legal-Regulatory Constitution of the Crowd"; Janet Smith on "Social Reproduction and Urban Dynamics"; and Stacey Sutton on "Cooperative Cities: Municipal Support for Worker Cooperatives and Equitable Economic Development in the United States."
Congratulation to GCI friend, Dr. Elizabeth "Betsy" Sweet, from Temple University, for receiving Honorable Mention for the prestigious Activist Scholar Award! Applying creative qualitative methodologies and innovative planning theory, she continues to do amazing work with women in Latino and indigenous communities in the U.S. and in Latin America.
Toronto itself is interesting and incredibly diverse. Modernist architecture dominates the downtown skyline of a very dispersed region. High rates of income inequality have been documented and widely discussed in the media. Several reports produced on Toronto's inequality includes The Unequal City 2015: Income and Health Inequities in Toronto by Toronto Public Health. In November 2017, A United Way (Toronto and York Region) and Neighborhood Change Research Partnership published a report entitled, The Opportunity Equation in the Greater Toronto Area: An Update on Neighbourhood Income Inequality and Polarization.
Researchers from The Factor-Inwentash School of Social Work at the University of Toronto, examined income inequality and polarization in Montréal, Toronto, Calgary and Vancouver as points of comparison. Using Gini-Coefficients, the common measure of income and wealth distribution across geographies, the researchers examined income distribution across neighborhoods in Toronto. They conclude that the disparities they document demonstrate a growing inequality in Toronto that exceeds other regions in Canada and one that threatens what they call, the "opportunity equation," a principle that emphasizes access to opportunity.
In a society that values fairness, the opportunity equation should mean that everyone can get ahead. However, factors like the increasing concentration of poverty, deteriorating job quality, and growing income inequality are creating an uneven playing field and compromising the promise of access to opportunity (1).
Based on their statistical calculations from census data, the researchers demonstrate the disparities among neighborhoods and assert that "as income inequality grows, the neighbourhood where you live increasingly matters in whether or not the promise of a fair chance is true for you." In Chicago, our reports on youth joblessness have also demonstrated how the disparities are evident when comparing neighborhoods, and countless other studies, including those by Metropolitan Planning Council, The Chicago Urban League and UIC Professor Maria Krysan, demonstrate the impacts of residential segregation on an array of issues including income and wealth. The Institute for Research on Race and Public Policy (IRRPP) report on A Tale of Three Cities: The State of Racial Justice in Chicago  while not neighborhood specific, documents racial disparities in Chicago on various economic, criminal justice, health, and housing indicators. Although more documentation of neighborhood disparities in Chicago in income and wealth would be valuable, the more that policies, resources and support are directed towards current efforts to address income and wealth inequalities, the faster we can not only mitigate the impacts but also turn around the numbers.
The Toronto report has several recommendations on how to mitigate the impacts of income and wealth inequality that suggest a relevance of this report to our work here in Chicago. In the report, three areas for "collective action" include: "Providing young people with the opportunities they need to build a good future; Working toward a labour market that offers job opportunities as real pathways to stability and security; and Working together to ensure that background and circumstances are never barriers to opportunity." In Toronto, the United Way initiated the following actions:
We established a new Anchor Agency investment strategy with a targeted focus on helping people who live in poverty, and those at risk of falling into poverty. This new way of working ensures people have access to a broad range of programs and services close to home. It also allows us to collaborate more closely with our community partners, better positioning us to respond to emerging needs in our changing neighbourhoods.
We launched our Youth Success Strategy, designed to connect youth facing multiple barriers to meaningful career opportunities. This strategy works with the business, labour, community, and education sectors to provide support and tools to bridge the opportunity gap and improve young people's social and economic futures. By 2025, we will have connected 10,000 young people to education, skills, and professional networks and experiences that will put them on the path to long-term economic stability.
Over 2017/18, building on the past 10-year's work of our Building Strong Neighbourhoods Strategy, we are leading a multi-sector social innovation lab to tackle the lack of economic opportunities faced by many neighbourhoods across our region. This work will build on our neighbourhood-focused supports to individuals and communities to make the connections and foster the relationships needed to develop solutions to the issues that affect residents (37).
Often, the value of attending these research conferences is to learn about research being conducted in other cities. Next year's Urban Affairs conference will be held in Los Angeles on the UCLA campus, hosted by the Luskin School of Public Affairs at the University of California, Los Angeles, April 24-27, 2019. In the meantime, we'll keep working on issues here at home.