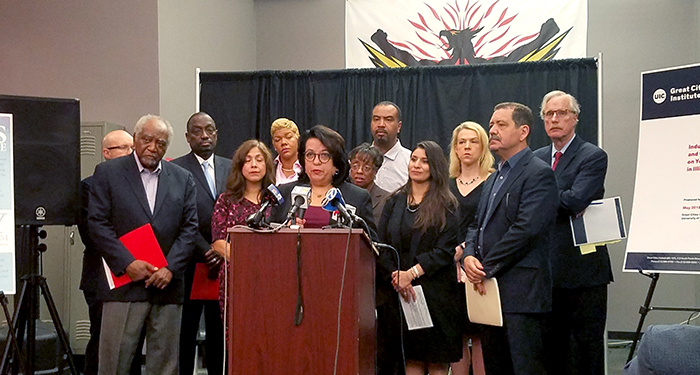 Our report, Industrial Restructuring and the Continuing Impact on Youth Employment in Illinois was released Monday at a press conference at Innovation High School of Arts Integration.  Below are our comments from the press conference:
Amidst the remnants of an "old economy" are the many marginalized workers who continue to feel the impacts of industrial restructuring and whose avenues into the "new economy" are either blocked or limited.

This report exposes conditions of chronic and concentrated joblessness remain entrenched, particularly for African Americans and that there are parts of Illinois that are worse than in Chicago and Cook County.

This report finds that:

In every age group and every geography, African Americans had the highest rates of joblessness and out of school and out work young people.

There are regions within Illinois where, since 1980, there is an increase in poverty and full time low wage employment and for young people throughout Illinois, the impacts of chronic joblessness remain a deep-rooted issue.

Middle class occupations are leaving medium-sized cities and rural areas as income inequalities grow.

Economies of mid-sized cities and rural areas are not incorporating young people into the workforce

This report also examined four counties in Illinois as case studies including Peoria, Tazewell, Kankakee, and Sangamon. In each of these counties, for the total population, poverty levels increased.  In Peoria individuals below the poverty level went from 9.9% in 1980 to 17.6%; In Tazewell, it went from 5.5% to 8.0%; Kankakee showed an increase in poverty from 12.9% to 15.4%; and in Sangamon from 9% to 15%

In the ratios of household income to poverty, the data for these same counties, shows a shrinking middle class and an increasing gap between the lowest and highest incomes.

In our case study counties, there is an increase in the proportion of full time employees in low wage industries

For young people, 20-24, for the 2012-2016 five-year estimates, there are parts of Illinois that showed higher rates of joblessness than did Chicago or Cook County.  Joblessness and Out of School and Out of Work rates were comparatively worse in areas of south, west, and Central Illinois compared to Cook County.

For Blacks, the out of school and out of work rates for 20 to 24-year old in Chicago, Cook County, the U.S. and Illinois as a whole improved substantially, though still an issue. However, there are parts of south, west and central Illinois that remain high and have out of school and out of work rates as high as 63.6%.

For Latinos in Chicago and Cook County, out of school and out of work rates increased, especially for females.

Teen employment in mid-sized cities and rural areas declined substantially.

In an economy which is susceptible to fluctuations, there are certain marginalized groups and geographic locations, that are particularly vulnerable to structural shifts in the economy, requiring, therefore, focused efforts to pursue policies that create opportunities for more people in more places to participate in the economy as it evolves.

We hope that this report is yet another clarion call for a broad-based attack on poverty and racial disparities in access to economic and educational opportunities.
Speaking at the press event hosted by Alternative Schools Network besides GCI Director, were Congressman Danny Davis, Democratic Congressional Candidate and Cook County Commissioner Jesus Garcia, along with Alma Anaya, Democratic Candidate for Cook County Commissioner.  Also attending were directors of organizations that have been co-sponsors for these employment reports produced by GCI for Alternative Schools Network, including Chicago Area Project, Westside Health Authority, Instituto del Progreso Latino. There were also young people from Innovation High School.
We had the opportunity to answer questions from the press and used the opportunity to emphasize job training, small business incubators, and preparation for opportunities in advanced manufacturing.  Given how creative young people are and given the character of the evolving economy, we also emphasized the importance of providing the conditions for innovation to spawn.
We also had a question about who we wanted the report to reach – who we wanted to take action. Our response:  everybody – including policy makers at the federal, state and local levels and the corporate sector.  We also emphasized that we thought it was important for more resources to be directed to those on the ground who, for years, have been working with young people to be connected, e.g. including helping them to get job ready.  As one director said to us, "Help the folks that know what they are doing to connect people to jobs."