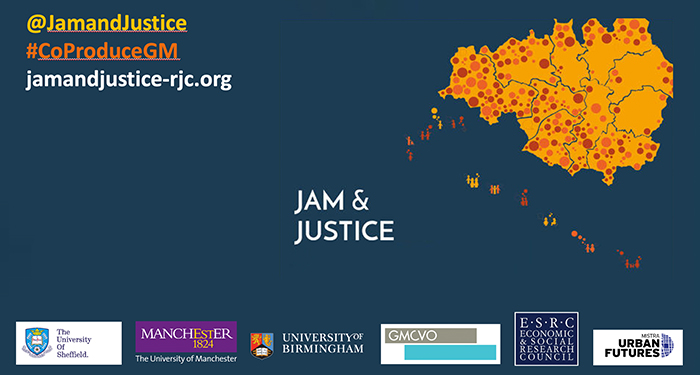 Finding more effective, inclusive and equitable ways to govern our cities are urgently needed.  This is a major challenge for communities, businesses and decision-makers.  There are many seemingly intractable social issues to address.  Top-heavy technocratic models have not delivered equitable outcomes.  But what might an alternative look like?
Liz Richardson, Reader in Politics at the University of Manchester, is part of a team of researchers trying to look at these tough questions.   They have been doing action research in greater Manchester, UK, in a project called Jam and Justice.  Part of the answer, they argue, lies in co-production.  Put simply, co-production  is where different actors and interests come together to collectively problem-solve.  In urban governance, co-production can mean citizens, civil society groups, and others, putting their heads together with city and city-regional governments to come up with different answers to sticky problems, such as climate change, or the challenge of an aging population.
But there are many questions about co-production and other forms of civic engagement.  It is really hard to get right.  Those involved have many experiences of where things have gone badly.   Can we overcome these legacies?
Liz is visiting the Great Cities Institute this week to exchange with academics, activists and others some of this work.  The Jam and Justice team wants to see what is the same and what is different about the Chicagoan experience, compared to the Greater Manchester experience.  The two cities and city-regions have much in common; proud traditions of activism, creative responses to de-industrialization, persistent inequalities, etc.  Liz is excited to lean more and hear about activity in the city.
Please join us Thursday, June 6, at noon at GCI to hear more about Jam and Justice and exchange ideas with Liz.  We are pretty sure that you will find it very interesting.