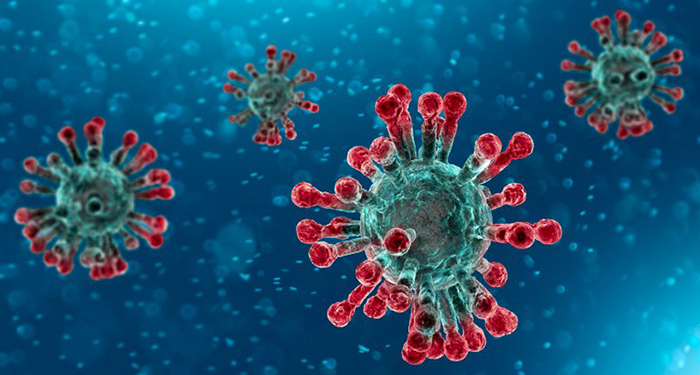 Our thoughts are with all of you, hoping that you are all warm and safe. We are, of course, sensitive to those whose health or livelihoods are being most directly affected and hopeful that this crisis will not result in the further exacerbations of structural inequalities. We are appreciative of the leadership from our state and local governments and recognize the critical role of public health officials, health care workers, those managing public services and infrastructure and the many others who are providing grounding during this societal earthquake.
There are still many uncertainties and much to think about as the world responds to the realities of something that scientists who study viruses have warned us about for decades.  As a research institute, we have been paying attention to the mathematics and science of this pandemic.  We also took another look at a report from the Global Preparedness Monitoring Board from September 2019 that provided "a snapshot of where the world stands in its ability to prevent and contain a global health threat." Observing that recommendations from the many previous panels and commissions had been either "poorly implemented or not implemented at all," the report identifies serious gaps in emergency systems to prepare for eventual pandemics. The Monitoring Board asserts that we seem to be better at responding to crises rather than preparing for them.
For too long, we have allowed a cycle of panic and neglect when it comes to pandemics: we ramp up efforts when there is a serious threat, then quickly forget about them when the threat subsides. It is well past time to act.
As we think about the world's response to this pandemic, we thought we would share a link to the report along with a post about its findings.
The report, titled, A World at Risk:  Annual Report on Global Preparedness for Health Emergencies, identifies "seven urgent actions" (along with timelines) that involve investments from governments; countries and regional organizations leading by example; building strong systems; preparing for the worst; financing institutions linking preparedness with financial risk planning; development assistance funders creating incentives and increasing funding for preparedness; and The United Nations strengthening coordination mechanisms.
The Monitoring Board calls for many of their recommended steps to be completed by September 2020.  With regard to building strong systems, they recommend that
Heads of government must appoint a national high-level coordinator with authority and political accountability to lead whole-of-government and whole-of-society approaches, and routinely conduct multisectoral simulation exercises to establish and maintain effective preparedness. They must prioritize community involvement in all preparedness efforts, building trust and engaging multiple stakeholders (e.g. legislators; representatives of the human and animal health, security and foreign affairs sectors; the private sector; local leaders; and women and youth).
This 2019 report states that, "Countries, donors and multilateral institutions must be prepared for the worst:"
A rapidly spreading pandemic due to a lethal respiratory pathogen (whether naturally emergent or accidentally or deliberately released) poses additional preparedness requirements. Donors and multilateral institutions must ensure adequate investment in developing innovative vaccines and therapeutics, surge manufacturing capacity, broad-spectrum antivirals and appropriate non-pharmaceutical interventions. All countries must develop a system for immediately sharing genome sequences of any new pathogen for public health purposes along with the means to share limited medical countermeasures across countries.
There will be much grieving over lost lives and the impacts of COVID-19 are likely to be will be with us for a long time to come. Yet some countries are doing a better job than others at containing its spread, providing health care, and minimizing financial disruptions.  What can we learn from them?
This time, we don't just want to respond to this crisis but prepare ourselves for subsequent ones.  Or even better, might we start looking for the sources of these health crises and find ways to prevent them?  Perhaps we can start by seeing the connections between these new viral strains and the disruptions of ecosystems and the destruction of natural habitats.  These are big issues requiring big solutions, international collaborations, and a focus on the public good over privatized greed.  We all have a stake in how this plays out and it is encouraging to see our collective response to help keep one another safe. We look forward to the creativity that may emerge from this crisis along with a healthy respect for the sacredness of Mother Earth and a commitment to our children's future.