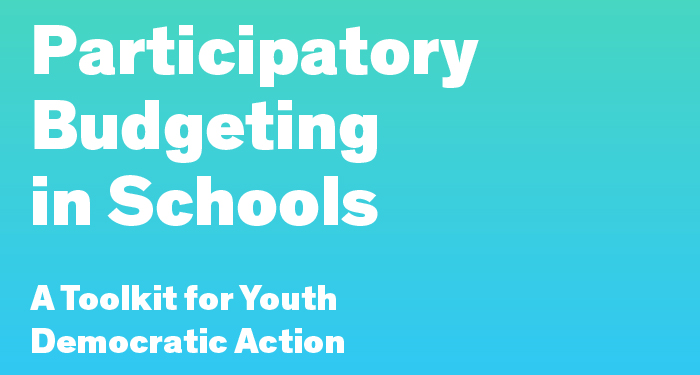 By its' nature participatory budgeting (PB) is intended to be flexible, experimental, and designed to fit different community contexts, including schools. PB is a democratic process where community members, in this case students, directly decide how to spend part of a public budget. PB has a basic framework that typically includes three main phases: Idea Collection, Proposal Development, and Project Expo & Community Vote.
Within the basic phases, there is a wide variety of models, strategies and activities that can be implemented. In schools, PB has been implemented in a single classroom, across multiple civics classrooms, across multiple classrooms as an interdisciplinary project; and through a Student Voice Committee or Student Council, to name just a few models. The Participatory Budgeting in Schools: A Toolkit for Youth Democratic Action has been created to consider multiple variations of process design with corresponding learning objectives and to intentionally consider the flexibility and tools and resources administrators and teachers need to implement PB in their schools.
Created through a participatory action research methodology, this Toolkit brings together the knowledge and experience of PB experts and Chicago Public School administrators and teachers to develop new resources and tools; document information about how PB has been implemented in Chicago to create case studies; consolidate PB resources and tools used teachers in previous PB processes or created by national experts, and create a format that is geared towards classroom teacher needs.
Schools that have engaged in PB have reported increased civic skills and knowledge among students, as well as the development of new civic leaders. Students have shared that PB gives them a real voice in their school, among many other benefits. PB gives students real power over real money and the opportunity to experience real democracy in action and to flex their civic skills and learn through doing.
Authors
Thea Crum
Katherine Faydash
Dayna Heller
Norma Hernandez
Alex Linares
Kathleen Mahoney
James McIntosh
Greg Smith