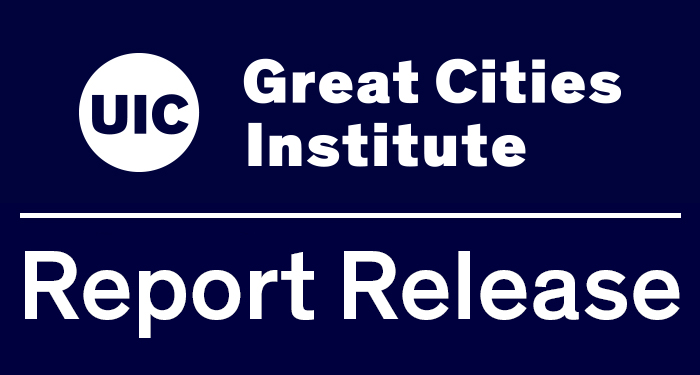 The discussion of the intersection of climate justice and global health is an urgent one, all the more so in the time of COVID-19. In May 2020, the UIC Great Cities Institute and the Center for Global Health convened a panel of experts, including academics, practitioners, and activists across fields and geographies to shed light on the circumstances of COVID-19 and to present solutions for a better, just world after the pandemic. Crises also create windows of opportunity, and as we move forward in a world with or without COVID-19, we must seize any and all opportunities to create the future that we want to live and have, moving past previous constraints.  
So many of us in this past year, since the first reports in January of the emergence of a virus in Wuhan, China, have experienced time in surprising ways. As COVID-19 traveled across the globe and arrived in our communities and homes, time has moved both at light speed and at a snail's pace. In May 2020, many Americans had just received $1,200 stimulus checks from the federal government. For many low-income families, those checks were not enough. Many working families in the United States, particularly immigrant families, did not qualify to receive them. Also in May 2020, the federal government announced Operation Warp Speed, a public-private initiative with the sole focus of COVID-19 vaccine development and distribution. In May 2020 we had just adjusted perhaps to our new vocabulary of quarantine and shutdown, flattening the curve, social distancing, and masking. At the time of this conversation, more than 74,000 people in the United States had died of COVID-19, and 255,000 people worldwide. 
When this report is being put together in May 2021, more than 582,037 people had died of COVID-19 in the United States, and more than 3.3 million people worldwide. Doctors, nurses, and hospital staff were among the first to have been vaccinated starting in January, as well as many people in long-term care facilities, and seniors and front-line essential workers—teachers, caregivers, delivery people—were eligible as well. Since then, many more in the population have been vaccinated. Despite vaccine advances, COVID-19 is still in our midst. Various strains of the virus have emerged in the past months, ones that are more contagious and possibly more devastating. COVID-19 is likely to be with us far into the foreseeable future. So even though scientists around the world have come together to make such impressive advances, we still find ourselves in very difficult, very tough times.
When Great Cities Institute and the Center for Global Health convened the panel, "Climate Justice Meets Global Health in the Time of COVID-19" in May 2020, they very intentionally invited a diversity of experts and experiences. In exploring the intersections of the global public health and climate justice in the time of COVID-19, we heard about the healthcare workforce and other essential workers, about water and climate justice from front-line and fence-line organizations, about local resilience and local economies, and about the need to address fair and just solutions to systemic issues that embrace interdependence—the only way that we will ensure that we move forward together without leaving any single person behind. 
This interconnectedness, this interdependence, was expressed across solutions proposed by our panelists. According to keynote speaker Jonathan Patz, director of the Global Health Institute at the University of Wisconsin-Madison, "This pandemic completely reminds us of the interdependence between the natural world and society. . . . [I]t is a perfect time for big opportunities. But if the solutions are not fair or just, they're not going to work and they're not going to last. We need brilliant, encompassing, strategic solution generation that embraces interdependence. You can't have a healthy population on a sick planet." 
With the release of this report we encourage you to circulate it and use it in your classes. The recording of the panel discussion is also available on our website here. So much of the information is just as urgent and relevant today as it was a year ago.