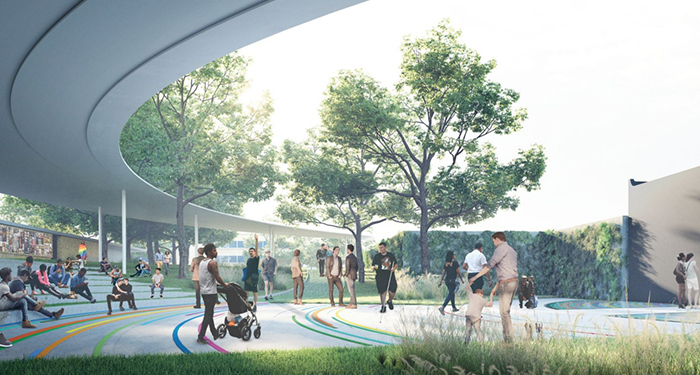 Great Cities Institute is happy to join the Alliance Francaise de Chicago for the opening night and special panel of the Coldefy Exhibition on November 11, 2021, at 6:30 p.m. at 54 W. Chicago Avenue. Attendance is Free with Registration.
Coldefy, an international architecture and urban planning firm based in Lille, France, believes that "architecture shapes our life and should be created for all of our senses."  The panel discussion, featuring Thomas Coldefy and Zoltán Neville, will focus on questions of expression and how a place makes us feel.  "What do we see and hear, how does it dialogue with our memories?"
The panel will be moderated by Nicolas Douay, Attaché for Higher Education at Embassy of France in the United States and Deputy Directory of Villa Albertine in Chicago. Joining Coldefy and Neville will be Michael Strautmanis from the Obama Foundation project and Leslie Roth from the Clayco Group. Teresa Córdova Director of the Great Cities Institute will be the discussant. The event will be followed by a wine and cheese reception.
This program is possible thanks to the support of Coldefy and the Cultural Service of the French Embassy in the US.
Coldefy, The Exhibition opens on November 11 and closes on December 18.  Admission is free and you can visit during our business hours: Monday to Friday 9 am to 5 pm, Saturdays 9:00 a.m. to 3:00 p.m. Closed on Sundays.
Coldefy brings a new type of pragmatism through its projects. Convinced that buildings influence our behavior, just as they shape our cities, Coldefy bases its work on social and sensory experience at the very core of and beyond the matters of aesthetics. Practicing sensitive architecture that is connected to nature and open to the landscape, Coldefy envisions buildings as a desire for tranquility and as opportunities to escape a frenzied pace of living.

Projects by Coldefy leave ample interstitial space, which facilitates a free flow and encourages encounters. They place themselves at the borderline between nature – through the context in which they are based – and personal narratives. These buildings thus reflect the life of their inhabitants and users, becoming spaces for living and communicating. Each Coldefy project leans on three fundamental values: urbanity, clarity, and phenomenology (Coldefy).
This is the second in a series of events this year with the Great Cities Institute and Alliance Francaise as part of the Chicago Architecture Biennial . The first was a panel discussion held on October 7, 2021, to launch Les Lumières: Urban Buffet. You can still view the billboard-sized sculpture, which is a three-month light installation on the roof of the Alliance through January 4, 2022. Stay tuned for more upcoming programming with Great Cities and Alliance Francaise.