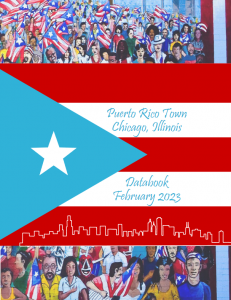 Executive Summary:
Through the concerted focus of the Puerto Rican Agenda, on August 27, 2021, Senate Bill 1833 was signed into law by Governor J.B. Pritzker. The bill, introduced by Senator Cristina Pacione-Zayas, not only made such a cultural district possible for Puerto Rican Town, but also for other communities in Illinois to preserve their cultural heritage. The Department of Commerce and Economic Opportunity now has the authority and the mandate to establish the criteria and guidelines for establishing these cultural districts.
As a result of this long-term effort to protect their presence in and cultural identity of their community, members of the Puerto Rican Agenda will pursue this cultural designation from the State of Illinois for Puerto Rico Town. The purpose of this Databook is to be a source of information for that effort.
This Databook provides information on demographic trends and socio-economic indicators in Puerto Rico Town. The data illustrates recent changes and identifies challenges that must be tackled to strengthen the cultural, housing, and economic opportunities for Puerto Rican residents of Puerto Rico Town. Each section of the report is accompanied by additional notes on community members' visions for the area collected from a meeting of the Puerto Rican Agenda on March 5, 2022. This Databook aims to serve as a resource for those community organizations working to protect Puerto Rico Town from further gentrification, shield residents from displacement, provide economic opportunity, and preserve the community's Puerto Rican culture.