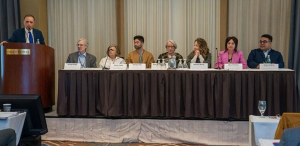 The annual event brought together leaders from the city's top foundations with their counterparts at more than 20 Chicago Latino nonprofit arts organizations.
The group, more than 50 strong, spent a full day participating in group dialogue, Q&As, breakout sessions, mentoring, and one-on-one introductions. The topic: developing new strategies and solutions to address the funding gap in Latino arts.
Carlos Tortolero, President and CEO, National Museum of Mexican Art, shared statistics provided by Dr. Teresa Córdova, Director of the Great Cities Institute at the University of Illinois-Chicago.