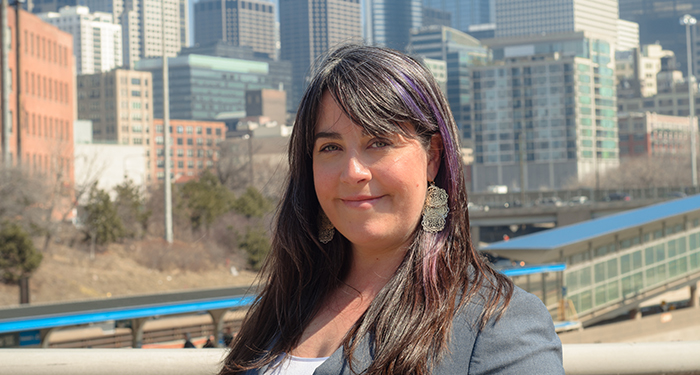 Email: tcrum3@uic.edu
Phone: 312.996.4617
Thea Crum, MUPP, is the Associate Director of the Neighborhoods Initiative at the Great Cities Institute at University of Illinois at Chicago (2011-present) and previously served as Program Coordinator (2008-2011). In these roles, she designs programs, raises funds, leads multiple projects, supervises students, and coordinates with community and internal partners. She provides overall project management of initiatives and programs that have included the Community Economic Development Research Cluster, the Civic Leadership Training Program, serving as Assistant Director on the ChiWest ResourceNet capacity building project, and serving as Project Director for the Participatory Budgeting Chicago Initiative. She served as Assistant Director on the Illinois ResourceNet Initiative, which helped to secured over $113 million in new federal resources for communities across Illinois over four years of technical assistance. She holds a BFA from University of Wisconsin (1998) at Madison and a Master of Urban Planning and Policy from University of Illinois Chicago (2011).
Crum has over 15 years of experience in the areas of community development, capacity building, and civic engagement. Previously she served as Consultant and Project Manager to the Domestic Violence & Mental Health Policy Initiative (2004-2008), where she was responsible for developing operations policies, fiscal management of a $1.5 million annual budget, and day-to-day operations management. She served as Associate Director of Operations to Women's Economic Agenda Project (2002-2004), where she was responsible for day-to-day organizational management. She regularly gives public and conference presentations on Participatory Budgeting, guest lectures in graduate courses, and publishes research and practitioner reports. She recently presented on Advanced Participatory Budgeting at the Second White House convening on Participatory Budgeting in the United States. She co-authored "Youth Citizenship in Action" (2018), "Democratizing Tax Increment Financing Funds through Participatory Budgeting" (2016) and "The Civics of Community Development: Participatory Budgeting in Chicago" (2015), which share best practices and general findings from the research and evaluation conducted annually on participatory budgeting in Chicago.
Crum is a member of Global Participatory Budgeting Practitioner Board (2019 – present) and recently served on the North American Participatory Budgeting Research Board (2014-2019) and the Young Nonprofit Professionals Network (2012-2018).