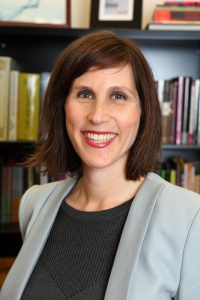 Email: raheleh@uic.edu
Rachel Havrelock, Ph.D. is Associate Professor of Jewish Studies and English at the University of Illinois at Chicago and author of River Jordan: The Mythology of a Dividing Line (University of Chicago Press, 2011). After writing about how the conflicted borders of the Israeli-Palestinian conflict formed and congealed in Palestinian and Israeli cultures for River Jordan, Rachel became invested in water sharing as an approach to Middle East peacemaking.
Havrelock's current book project, Pipeline: How Oil Created the Modern Middle East and How Water Can Transform It, chronicles the role of oil extraction and infrastructure in the militarization of the Middle East and suggests how regional water management could transform the landscape. She conducted research in the UK supported by a fellowship at the University of Cambridge and in the Middle East on the College of Liberal Arts and Sciences Dean's Research award. During the 2014-15 academic year, Rachel is a fellow at the University of Illinois at Chicago Institute for the Humanities. She received an alumni impact award from the U.S. Department of State Global Fellows Program in June 2014.
Rachel serves on the International Advisory Committee and works with the trilateral (Israeli, Palestinian, and Jordanian) NGO Ecopeace to link communities supported by the same watershed in order to promote regional culture premised on equitable water distribution and shared resource planning. In Fall 2013, Rachel helped Ecopeace launch the international Save the Jordan campaign on the Jordanian side of the Dead Sea. In addition to the Middle East, Rachel's work addresses the Great Lakes as a transborder water system both abundant and imperiled. She has been awarded a Global Midwest grant from the Mellon Foundation in order to explore the common challenges of international transborder water systems.
Selected Publications