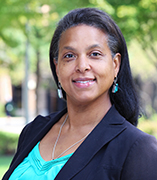 Email: susanp@uic.edu
Susan Perkins, Ph.D. is Associate Professor in the Department of Managerial Studies in the College of Business Administration at the University of Illinois at Chicago. Her research focuses on how firms strategically navigate the cross-country variations in institutional environments between countries. Professor Perkins areas of expertise include nonmarket strategy, industry regulation, corporate governance and ownership structures, institutional change and leadership models that lead to enhanced firm performance and market growth. She has been published in peer reviewed journals including Administrative Science Quarterly, Global Strategy Journal and Regulation and Governance.
Selected Publications
Perkins, S. (2014). "When Does Prior Experience Pay? Institutional Experience and the Case of the Multinational Corporation," Administrative Science Quarterly, 59(1):145-181.
Perkins, S., Morck, R. and Yeung, B. (2014). "Innocents Abroad: The Hazards of International Joint Ventures with Pyramidal Group Firms," Global Strategy Journal, 4: 310–330.
Perkins, S. (2014). "Cross-national Variations in Industry Regulation: A Factor Analytic Approach with an Application to Telecommunications, Regulation & Governance," 8: 149–163.
Perkins, S., Phillips, K.W. and Pearce, N. (2013). "Ethnic Diversity, Gender, and National Leaders," Journal of International Affairs, 67(1): 85-104.
Perkins, S. and Minefee, I. (2015) "Jeitinho Brasileiro: Adopting Nonmarket Strategies in Brazil, Routledge Companion to Nonmarket Strategy," Lawton, T.C. and Rajwani, T. (Eds.), Oxford, UK and New York, NY, routledge.com/books/details/9780415712316/.
Perkins, S. (2005). "Institutional Environment Relatedness and Foreign Investment Failures in the Brazilian Telecommunications Industry," Academy of Management, Best Paper Proceedings, M. Weaver (Ed.).
Education
New York University New York, NY, Stern School of Business, Ph.D. in Business Administration, Strategy and International Business
New York University New York, NY, Stern School of Business, M.Philosophy, Management
New York University New York, NY, Stern School of Business, M.B.A., International Business/Management
Fundação Getulio Vargas Sao Paulo, SP, Brazil, International Management Program (joint MBA)
Howard University Washington, D.C., School of Business, B.B.A., Marketing, Beta Gamma Sigma (Honors)