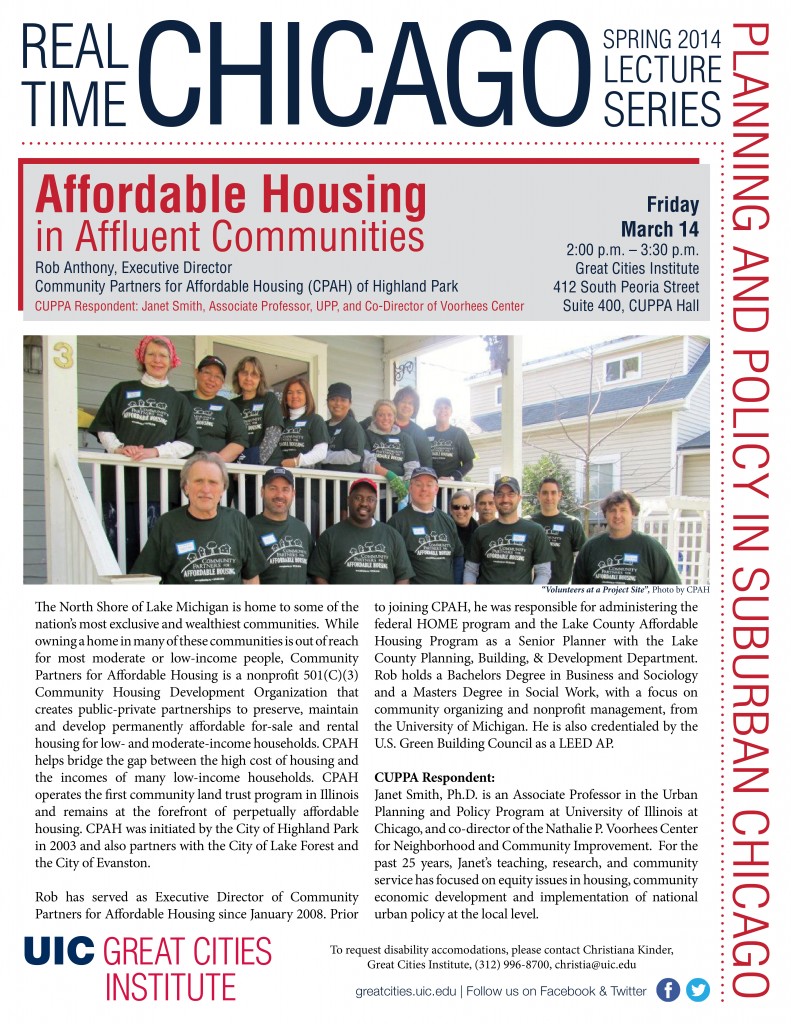 Real Time Chicago Spring 2014 Lecture Series:
"Affordable Housing in Affluent Communities"
Rob Anthony, Executive Director
Community Partners for Affordable Housing (CPAH) of Highland Park
CUPPA Respondent: Janet Smith, Associate Professor, Urban Planning & Policy, and Co-Director of Voorhees Center for Neighborhood and Community Improvement
Friday, March 14
2:00 p.m. – 3:30 p.m.
Great Cities Institute
412 South Peoria Street
Suite 400, CUPPA Hall
The North Shore of Lake Michigan is home to some of the nation's most exclusive and wealthiest communities.  While owning a home in many of these communities is out of reach for most moderate or low-income people, Community Partners for Affordable Housing is a nonprofit 501(C)(3) Community Housing Development Organization that creates public-private partnerships to preserve, maintain and develop permanently affordable for-sale and rental housing for low- and moderate-income households. CPAH helps bridge the gap between the high cost of housing and the incomes of many low-income households. CPAH operates the first community land trust program in Illinois and remains at the forefront of perpetually affordable housing. CPAH was initiated by the City of Highland Park in 2003 and also partners with the City of Lake Forest and the City of Evanston.
Rob has served as Executive Director of Community Partners for Affordable Housing since January 2008. Prior to joining CPAH, he was responsible for administering the federal HOME program and the Lake County Affordable Housing Program as a Senior Planner with the Lake County Planning, Building, & Development Department. Rob holds a Bachelors Degree in Business and Sociology and a Masters Degree in Social Work, with a focus on community organizing and nonprofit management, from the University of Michigan. He is also credentialed by the U.S. Green Building Council as a LEED AP.
CUPPA Respondent:
Janet Smith, Ph.D. is an Associate Professor in the Urban Planning and Policy Program at University of Illinois at Chicago, and co-director of the Nathalie P. Voorhees Center for Neighborhood and Community Improvement.  For the past 25 years, Janet's teaching, research, and community service has focused on equity issues in housing, community economic development and implementation of national urban policy at the local level.
To request disability accommodations, please contact Christiana Kinder, Great Cities Institute, (312) 996-8700, christia@uic.edu