Disassembled Cities: Social and Spatial Strategies to Reassemble Communities
March 15 @ 2:00 pm

-

3:30 pm

Free with RSVP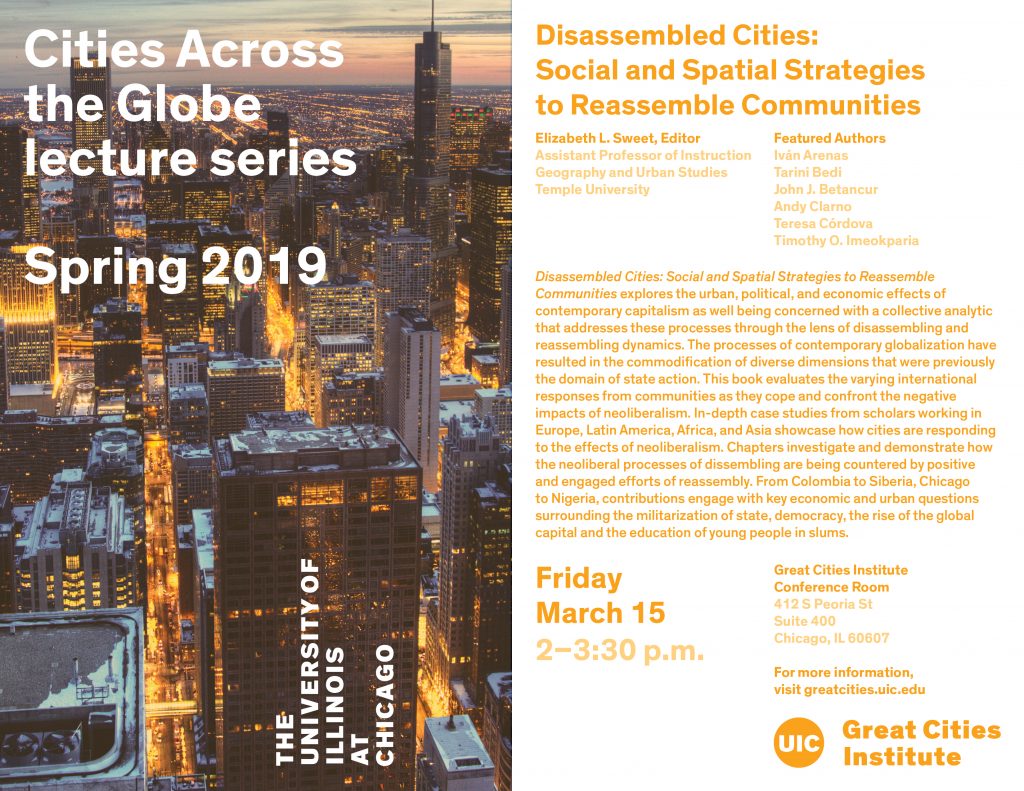 Join Great Cities Institute for a discussion with the editor, Elizabeth L. Sweet, and several chapter authors of the recently released book Disassembled Cities: Social and Spatial Strategies to Reassemble Communities. Authors in attendance will include Iván Arenas, Associate Director, UIC Institute for Research on Race and Public Policy; Tarini Bedi, Associate Professor, Anthropology; John J. Betancur, Professor, UIC Urban Planning and Policy; Andy Clarno, Associate Professor, Sociology & African American Studies; Teresa Córdova, Director and Professor, UIC Great Cities Institute; and Timothy O. Imeokparia, Associate Director of Research and Planning, UIC Great Cities Institute.
Disassembled Cities: Social and Spatial Strategies to Reassemble Communities explores the urban, political, and economic effects of contemporary capitalism as well being concerned with a collective analytic that addresses these processes through the lens of disassembling and reassembling dynamics. The processes of contemporary globalization have resulted in the commodification of diverse dimensions that were previously the domain of state action. This book evaluates the varying international responses from communities as they cope and confront the negative impacts of neoliberalism. In-depth case studies from scholars working in Europe, Latin America, Africa, and Asia showcase how cities are responding to the effects of neoliberalism. Chapters investigate and demonstrate how the neoliberal processes of dissembling are being countered by positive and engaged efforts of reassembly. From Colombia to Siberia, Chicago to Nigeria, contributions engage with key economic and urban questions surrounding the militarization of state, democracy, the rise of the global capital and the education of young people in slums.
As an expert in planning theory and qualitative research methodologies, Dr. Elizabeth L. Sweet teaches at Temple University in the Department of Geography and Urban Studies. Dr. Sweet engages in collaborative community economic development with a focus on the links between economies, violence, and identities. Using feminist and anti-racist frameworks, her work in Latino communities in the U.S. and in Latin America has led to long term collaborations and inclusive projects that both push the boundaries of planning theory and methods while at the same time provides practical intervention practices for planners.
If the above RSVP form is not working, please email gcities@uic.edu to RSVP.